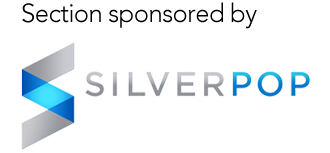 This section highlight automation and enablement tools, features, functionality, tactics and strategies to optimize demand generation.
Friday, 19 April 2013 12:29
Computer hardware, telecom and retail were among the highest performing verticals in Silverpop's recently released 2013 Email Marketing Benchmarks Study. In addition to the standard email marketing benchmarks, the report provides a breakdown of data by top-quartile, median and bottom-quartile performers and analysis by industry and geography.

"In today's very multichannel world, email still plays a critical role in marketing departments across all industries," said Loren McDonald, VP of Industry Relations for Silverpop. "Email remains the most effective channel for delivering personalized, dynamic messages at the right time. For marketers seeking to set their messages apart from the rest of the pack, this benchmark report serves as a baseline for them to not only see where they stand against their peers, but also the direction — and how far — they need to go to be considered a top performer."
Read more...
Written by Kim Zimmermann
Friday, 05 April 2013 09:27
Since being acquired by Silverpop a year ago, CoreMotives has increased billings by 136% and added more than 270 customers, bringing the total to 1,500 brands currently using the tool to deliver marketing campaigns from within Microsoft Dynamics CRM.
Demand Gen Report spoke with Rhett Thompson, Co-Founder of CoreMotives, and Ellen Valentine, Product Evangelist for Silverpop, about the status of the partnership and the future.
Read more...
Monday, 01 April 2013 09:11
Leads360, a provider of cloud-based sales automation technology, announced the availability of Performance-Based Distribution and Lead Scoring features.
Performance-Based Distribution continuously learns and self-tunes based on real-time sales representative performance to optimize lead assignment, according to company officials. Lead Scoring gives Leads360 customers the ability to quickly differentiate leads based on their quality score and uses the score to improve lead distribution and sales follow-up; helping sales reps prioritize leads that have a greater chance of converting.
Read more...
Monday, 18 March 2013 09:15
Overall email volume increased 5% in Q4 2012 compared to the same period the previous year, according to a recent Experian Marketing Services benchmark report. In addition, the Experian study found that unique open rates increased 12% year over year in Q4 2012.

Additional key findings from the report include:
The revenue per email increased 8% in Q4 2012 compared to the same time last year, an increase from 13 cents to 14 cents per email year over year;
The email volume among different industries shows that travel emails reported the largest increase with 21.4%; and
The revenue per email in Q4 2012 was 30% higher than in Q3 2012, an increase from 11 cents per email to 14 cents.
Read more...
<<

Start

<

Prev

1

2 3 4 5 6 7 8 9 Next > End >>


Page 1 of 9