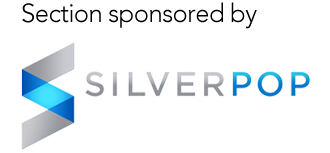 This section highlight automation and enablement tools, features, functionality, tactics and strategies to optimize demand generation.
Written by Andrew Gaffney, Editor
Tuesday, 02 September 2014 08:48
ON24 announced the launch of Webcast Elite Marketing Edition, a suite of new tools and features designed to help B2B marketers promote their webinars and qualify leads..
Webcast Elite Marketing Edition includes ON24's Integration Service, which intends to connect user webcasting, CRM and marketing automation solutions to boost demand generation and lead nurturing capabilities.
Read more...
Written by Andrew GAffney, Editor
Thursday, 28 August 2014 08:32
eTrigue announced the launch of VisitIQ, marketing software designed to help identify and connect the actions of anonymous web visitors to known prospects in real time.
Leveraging their current email marketing platforms, marketers can add links to email messages to automatically tie web activity — including page visits, duration on each page, document downloads, Google AdWords response and webinar attendance — to individual prospects.
Read more...
Written by Brian Anderson
Wednesday, 27 August 2014 10:25
More than one third (34%) of B2B buyers report that the number of team members involved in buying decisions has increased over the past year, according to Demand Gen Report's 2014 B2B Buyer Behavior Survey. Also, over half (55%) of respondents stated they have at least three team members that take part in buying decisions within the company.
Account-based marketing (ABM) provides marketers with an opportunity to nurture all of the key decision makers within targeted organizations as a collective group — while also keeping messaging highly personalized and buyer focused.
Read more...
Written by Brian Anderson, Associate Editor
Wednesday, 20 August 2014 10:30
B2B buyers rarely make a buying decision on the first touch. Marketers have incorporated lead nurturing initiatives into their marketing mix as a way to keep the brand top-of-mind among prospective buyers. However, they continue to struggle with keeping prospects engaged during prolonged buying cycles.
More than half (58%) of B2B buyers spent more time researching purchase decisions than they did a year prior, according to Demand Gen Report's 2014 B2B Buyer Behavior Survey. As buying cycles grow longer and longer, marketers need to have a deep understanding of their prospective customers so their content and engagement have a positive impact on buyer decisions. By segmenting their lists, marketers will be able to tailor each message specifically to individual buyer's expectations.
Read more...
<<

Start

<

Prev

1

2 3 4 5 6 7 8 9 10 Next > End >>


Page 1 of 16