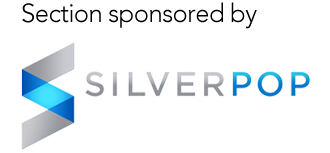 This section highlight automation and enablement tools, features, functionality, tactics and strategies to optimize demand generation.
Thursday, 31 October 2013 09:14
Driving more revenue is the top reason to focus on sales and marketing alignment, but improving lead quality and messaging to prospects are other important benefits. There is also a need to better understand the role of content in moving prospects through the sales pipeline.
These were some of the key takeaways from a study titled: Sales Enablement: Fulfilling the Last Frontier of Marketing-Sales Alignment. The research, which was based on responses from 260 sales and marketing professions surveyed by Aberdeen Group, was presented by Corporate Visions.
Read more...
Thursday, 17 October 2013 07:54
Influitive announced the launch of Influitive Referrals, a B2B referral solution designed to help marketers generate more sales-ready leads from customers and partners.
Influitive Referrals, which is integrated with Salesforce and LinkedIn, can suggest potential referral names from your advocate's social networks.

Read more...
Tuesday, 08 October 2013 08:47
Demandbase expanded its consulting services with a Managed Analytics Offering, which is designed to help marketers uncover insights and better measure marketing performance.
The Managed Analytics Offering launched as part of Demandbase's Strategic Services suite. Landing Page Optimization Services, co-delivered by SiteTuners, and Target Account Marketing Strategies, co-delivered by New Business Strategies, have also been added to the Strategic Services suite.
Read more...
Friday, 04 October 2013 09:48
Demand generation strategy firm ANNUITAS recently acquired Get Me In The Inbox, an email deliverability and privacy compliance firm, to expand its services for enterprise clients.
ANNUITAS is now offering email deliverability, privacy and compliance services as part of its overall demand generation strategy services.
Read more...
<<

Start

<

Prev

1

2 3 4 5 6 7 8 9 10 Next > End >>


Page 1 of 13