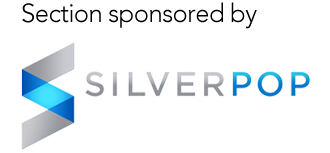 This section highlight automation and enablement tools, features, functionality, tactics and strategies to optimize demand generation.
Written by Kim Ann Zimmermann, Managing Editor
Tuesday, 11 March 2014 14:07
NetApp, a data storage solution company, developed a new product for electronic health records in response to growing demand from the healthcare industry. But the company was having difficulty connecting with the right customer, despite spending more than $100,000 on targeted trade shows, in addition to data lists.
"We got the sense that it might not be the product or the marketing campaign holding things back, but the lack of actionable data," said Jessica Jorgensen, NetApp's Senior Marketing Manager for Healthcare, in an interview with Demand Gen Report. "We were market-ready and then realized that our lists were not."
Read more...
Written by Kim Ann Zimmermann, Managing Editor
Wednesday, 26 February 2014 09:57
The sales and marketing relationship once focused on the quality of the leads being generated by marketing. Now, attention is shifting to the quality and availability of content.
Aligning sales processes, content and resources specifically to buyer needs is critical to improving win rates. However, more than half (53%) say their selling processes and content are only somewhat or not aligned to the buyer stages, according to the recently released annual Sales Execution Trends survey from Qvidian.
Read more...
Written by Glenn Taylor, Associate Editor
Wednesday, 12 February 2014 10:48
While buyer personas are unique to each company, they all focus on the role each buyer has in making purchasing decisions. And as the role of the B2B buyer broadens, buyer personas are become more detailed and complex. The proliferation of mobile access and evolving content consumption patterns are also driving changes in persona development.
Today's B2B buyer personas extend beyond attributes such as job title, industry and company size, and can be tailored to an individual buyer all the way up to a large enterprise. Modern buyer personas are designed to discover how, when and why buyers come to their decisions. Grouping buyers based on beliefs, priorities, goals, preferred channels and previous purchases allows marketers to gain a more accurate read on how they can help solve a certain problem.
Read more...
Written by Kim Ann Zimmermann, Managing Editor
Wednesday, 15 January 2014 10:00
The practice of ad retargeting — displaying targeted messages to visitors who have left your site when they view other sites — has been a page in B2C marketers' playbooks for quite a while. Today, however, B2B marketers are embracing retargeting even more warmly, and for good reason: It is a cost-effective way to keep your brand in front of B2B decision makers during what is typically a long buying cycle.
The average click-through rate online for display ads is .07%, while the average click-through rate (CTR) for retargeted ads is about 0.7%, according to research from Criteo, a company that specializes in performance display advertising. Criteo studies also found that visitors who are retargeted with display ads are 70% more likely to convert than those who are not retargeted.
Read more...
<<

Start

<

Prev

1

2 3 4 5 6 7 8 9 10 Next > End >>


Page 1 of 14