Revenue Strategies
Written by Kim Zimmermann, Managing Editor
Wednesday, 10 April 2013 08:00
Are marketing-generated leads really full of dreck, or is sales just unable to close deals? It is an age-old battle of wills that is getting more heated as the pressure is on both sales and marketing to meet ever-rising revenue targets. Many organizations are looking to Big Data and predictive analytics to help identify hot sales prospects, but weaknesses in their databases are hampering sales productivity.
More than two thirds (68%) of companies report struggling with lead generation, blaming marketing for not providing enough quality leads, according to recent research sponsored by Lattice Engines, a data analytics platform provider, and conducted by CSO Insights, a sales and marketing effectiveness research firm,
Read more...
Industry News
Monday, 29 April 2013 09:08
Salesforce.com launched Social.com, a service that allows users to advertise on Facebook and Twitter using real-time customer and social listening data. Social.com is the latest addition to the Salesforce Marketing Cloud, which includes Radian6 and Buddy Media. Fifty five of the Fortune 100 and eight of the top 10 global advertisers are current clients of Salesforce Marketing Cloud.
"Today salesforce.com is doubling down on social ads," said Michael Lazerow, CMO of Salesforce Marketing Cloud at Salesforce.com. "Social ads cannot be disconnected from your business."
Read more...
Industry News
Friday, 26 April 2013 09:12
Software-as-a-service marketing automation provider eTrigue Corp. announced the 2013 Spring release of DemandCenter, which includes updated dashboards and interactive grids for easier data sorting.
This release also features a simpler way to manage eTrigue's unique 3D lead scoring with greater granularity, company officials said.
Read more...
Industry News
Thursday, 25 April 2013 13:03
Silverpop announced that it has received $25 million in new funding in the form of venture debt from Escalate Capital Partners and Silicon Valley Bank.
Venture debt is a typical precursor to IPOs and acquisitions, leading observers to speculate that Silverpop plans to go public and is an acquisition target of Salesforce.com, Microsoft or another CRM provider. Marketo, another marketing automation provider, recently filed an IPO and is widely believed to bet on track to be acquired by a CRM vendor.
Read more...
Data Management
Thursday, 25 April 2013 09:14
Bizo, a provider of business audience marketing technology, announced the launch of Bizo Data Solutions, an extension of the company's existing digital marketing platform to help B2B companies to better understand and more efficiently engage target audiences across their entire marketing funnel.
Bizo Data Solutions works with a number of marketing technology platforms, including specific integrations with Adobe AudienceManager, Salesforce, Eloqua, BlueKai, [x+1], Google Analytics and others.
Read more...
<< Start < Prev 101 102 103 104 105 106 107 108

109

110 Next > End >>


Page 109 of 280
Demanding Views
By Bonnie Crater, CEO, Full Circle CRM
Measuring marketing and its impact on revenue is a hot topic these days but making an investment for change in organizations can sometimes be challenging. More specifically, there are usually three types of reasons we make changes in business — personal reasons, strategic reasons, and financial reasons.
Read more...
Bulletin Board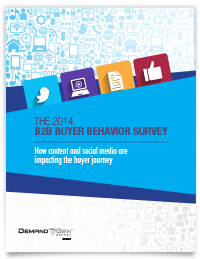 Demand Gen Report's 2014 B2B Buyer Behavior Survey provides insights into how B2B buyers make their decisions. Buyers are waiting longer to engage with sales, but they are more satisfied with the process than in years past. For an in-depth look at this research, download the report now!
Solution Spotlight
Little Bird is a social intelligence solution designed to build social influence that ultimately drives business growth.
Read more...
Follow Us
Industry Events
When: November 11 – 13, 2014
Where: Raleigh, NC
Internet Summit is a premier digital strategies forum with a goal of educating and promoting forward thinking and thought leadership on topics related to internet business and marketing. Attendees come from a broad range of organizations including National Brands, Agencies, Technology Companies, Media, B2B Providers, Associations & Nonprofits and Startups.
Read more...
When: February 16 - 18, 2015
Where: Scottsdale, AZ
The B2B Content2Conversion Conference brings together the top thought leaders and practitioners in both content and demand generation. The combined agenda provides real-world case study examples, as well as actionable takeaways on how marketers can better target, engage and convert prospects into customers. Taking place in Scottsdale, Arizona, the B2B Content2Conversion Conference provides you with a playbook to optimize your 2015 marketing plans.
Read more...
When: February 23 – 26, 2015
Where: Las Vegas, NV
Discover how-to details and strategies for fast, measurable digital marketing success. All of it is real-world experience grounded in rigorous research and taught by successful marketers who face your same challenges. Learn how to make your email campaigns — and your career — more successful than ever and do it within a world-class venue. It's no wonder leading organizations consider Email Summit a priority investment year after year.
Read more...