Rich Media
Tuesday, 09 April 2013 09:20
While a shotgun approach such as direct mail or a webinar can hit more targets and generate more initial responses, a multi-touch outbound prospect development campaign can yield more qualified leads at a lower cost per lead, as this infographic from PointClear illustrates.
Read more...
Industry News
Tuesday, 09 April 2013 08:10
KnowledgeVision Systems, a provider of online video presentation technology, has announced the closing of $1.875 million in new financing from institutional, private and strategic investors, according to a company press release.
The funds will be used for new product initiatives and to support the company's rapid customer growth.
Read more...
Social & Mobile
Monday, 08 April 2013 08:00
HubSpot announced the availability of RetweetLab, a free tool for marketers to analyze their Twitter account as well as their competitor's to measure the effectiveness of tweets.

RetweetLab also measures the impact of hashtags on retweets from Twitter accounts and offers a breakdown of the time of day the account receives the most retweets. In addition, the new tool analyzes the impact of call-to-action within tweets, such as "please retweet."
Read more...
Demand Generation Strategies
Written by Kim Zimmermann
Friday, 05 April 2013 09:27
Since being acquired by Silverpop a year ago, CoreMotives has increased billings by 136% and added more than 270 customers, bringing the total to 1,500 brands currently using the tool to deliver marketing campaigns from within Microsoft Dynamics CRM.
Demand Gen Report spoke with Rhett Thompson, Co-Founder of CoreMotives, and Ellen Valentine, Product Evangelist for Silverpop, about the status of the partnership and the future.
Read more...
Industry News
Thursday, 04 April 2013 08:31
ReachForce, a provider of data management systems for B2B marketers, acquired SetLogik, a vendor of cloud-based data and analytics technology, to develop the Connected Marketing Data Hub.
The Connected Marketing Data Hub offers an integrated suite with continuous data quality management and predictive marketing capabilities, said ReachForce officials. Through its integration with a number of marketing and sales automation platforms, including Marketo, Eloqua and Salesforce.com, it enables marketing professionals to more effectively collect, qualify, target, and convert leads throughout the buyer's lifecycle.
Read more...
<< Start < Prev 101 102 103 104 105 106 107 108

109

110 Next > End >>


Page 109 of 276
Demanding Views
By Israel Martinez, Product Manager, DNN
You want a shorter sales cycle and your customers want a shorter buying cycle. No one benefits from prolonging the process. But if your goals are aligned, why is it that things seem to be going in the opposite direction?
According to the International Data Corporation (IDC), 56% of the buying process is spent searching for educational content. IDG reported that 86% of B2B buyers say that the content created by marketing departments is not useful, relevant or aligned with their needs. A study from Forrester says that 76% of buyers choose vendors that can have intelligent conversations and deliver effective value messages, and Sirius Decisions reported that the number one sales inhibitor is an organization's inability to communicate the value of their products.
Read more...
Bulletin Board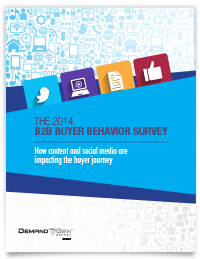 Demand Gen Report's 2014 B2B Buyer Behavior Survey provides insights into how B2B buyers make their decisions. Buyers are waiting longer to engage with sales, but they are more satisfied with the process than in years past. For an in-depth look at this research, download the report now!
Solution Spotlight
Socedo is a tool that enables users to leverage social media for lead prospecting and engagement.
Read more...
Follow Us
Industry Events
When: October 8 – 10, 2014
Where: Boston, MA
Are you armed and ready to meet the marketing challenges of today, tomorrow, and beyond? With technology and the way we live changing rapidly, B2B marketers have so many options and tools that it can be overwhelming. At the 2014 B2B Marketing Forum we will have inspirational speakers presenting on the hottest, smartest topics—giving you the knowledge you need to thrive in 2014, 2015 and beyond. Get ready to bullet-proof your marketing for the future and come out a modern marketing rock star!
Read more...
When: October 13 – 16, 2014
Where: San Francisco, CA
Whether you're a company of five or a Fortune 500, you're going to learn a lot of innovative ways to improve your business at Dreamforce. With over 1,400 sessions and thousands of live solutions from the world's largest cloud ecosystem, Dreamforce has tailored content specific to your business size and type, for any role in your company.
Read more...