Demand Generation Strategies
Monday, 03 June 2013 09:13
VisiStat, a cloud-based digital analytics service for marketing and lead generation, announced the launch of two major product versions — VisiStat 10.0 and LeadCaster 4.0.— that feature advanced lead search, comprehensive lead scoring, live leads, and lead history.
In this new release, all lead capture information is presented on one screen, bringing all data together for simple review and fast action by the user, according to company officials.
Read more...
Industry News
Friday, 31 May 2013 09:06
Skyword, a content production platform provider, recently landed $6.7 million in growth financing led by Cox Media Group. The investment is said to help expand the team and help scale the company to meet increasing customer and partner needs, according to Skyword officials.
"We are in the midst of a perfect storm in the digital information era," said Tom Gerace, Founder and CEO of Skyword. "Today's converged media landscape and the evolving relationship between brands and consumers are driving marketers and publishers to rethink their tried-and-true strategies and invest in new technology solutions to better connect with customers. Cox Media Group continues to be a strategic partner in our growth as we push to reshape the industry."
Read more...
Demand Generation Strategies
Thursday, 30 May 2013 10:21
Act-On announced Act-On Inbound, which extends Act-On's marketing automation platform to include advanced inbound marketing capabilities such as SEO enhancement and in-depth metrics. The company also announced a new mobile app for Android and iPhone users along with increased offerings of mobile-optimized templates, forms, and preview options within the interface.
Act-On Inbound allows customers to optimize their content, blog, and web site for search engines, manage keywords for both SEO and AdWords, and accurately measure the effectiveness of these campaigns.
Read more...
Content Strategies
Written by Demand Gen Report Staff
Wednesday, 29 May 2013 09:13
Whether it is a playful infographic or a more serious thought leadership piece, the common threads of all of the winners of the Killer Content Awards is that they connect with their audiences in ways that are meaningful and measurable.
Any great campaign begins with clearly established objectives — help new sales leaders extend their tenure, reach mid-sized firms or explain the impact of Big Data on sales organizations. These assets were then aligned to those specific aspirations, which resulted in effective, targeted content.
Read more...
Rich Media
Tuesday, 28 May 2013 16:55
With corporate users sending and receiving an average of 112 emails per day, it is still the most popular communication vehicle for marketers, ahead of SEO and event marketing, according to this infographic from Dekh. Email is most likely to be opened on Tuesdays.
Read more...
<< Start < Prev 101 102 103 104 105 106 107 108

109

110 Next > End >>


Page 109 of 287
Demanding Views
By Sean Crowley, Director of Marketing, NetProspex
Chances are you're using content marketing to supplement your other marketing strategies. After all, content marketing costs 62% less than traditional marketing and generates about three times as many leads, according to an infographic from Demand Metric. Pretty impressive, I know.
But are you doing it right? Are you creating enough content and using the right distribution channels? Whether you're new to the game or just in need of little a refresher, below are some critical content marketing dos and don'ts, and links to other content marketing thought leaders on the topic:
Read more...
Bulletin Board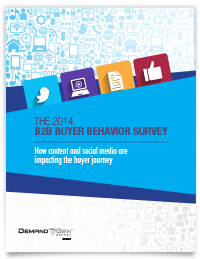 Demand Gen Report's 2014 B2B Buyer Behavior Survey provides insights into how B2B buyers make their decisions. Buyers are waiting longer to engage with sales, but they are more satisfied with the process than in years past. For an in-depth look at this research, download the report now!
Solution Spotlight
RingLead is a tool designed to analyze, remove, merge and prevent Salesforce duplicates, including leads, contacts and accounts.
Read more...
Follow Us
Industry Events
When: February 16 - 18, 2015
Where: Scottsdale, AZ
The B2B Content2Conversion Conference brings together the top thought leaders and practitioners in both content and demand generation. The combined agenda provides real-world case study examples, as well as actionable takeaways on how marketers can better target, engage and convert prospects into customers. Taking place in Scottsdale, Arizona, the B2B Content2Conversion Conference provides you with a playbook to optimize your 2015 marketing plans.
Read more...
When: February 23 – 26, 2015
Where: Las Vegas, NV
Discover how-to details and strategies for fast, measurable digital marketing success. All of it is real-world experience grounded in rigorous research and taught by successful marketers who face your same challenges. Learn how to make your email campaigns — and your career — more successful than ever and do it within a world-class venue. It's no wonder leading organizations consider Email Summit a priority investment year after year.
Read more...