Industry News
Thursday, 18 October 2012 10:25
Microsoft announced yesterday that it has acquired marketing automation firm MarketingPilot for an undisclosed sum. The news was announced in a blog post on Microsoft's Dynamics CRM community site and in a statement on the MarketingPilot web site.
"MarketingPilot has a comprehensive vision for Integrated Marketing solutions that aligns closely to our vision," said Bob Stutz, Corporate Vice President, Microsoft Dynamics CRM, in the blog post. "In addition, they have a talented management team and an innovative product suite built on Microsoft technologies available both in the Cloud and On-premises. We are committed to taking care of MarketingPilot customers, and we welcome them to the Microsoft family. We will be communicating directly with individual customers over the coming days and weeks."
Read more...
Industry News
Wednesday, 17 October 2012 15:40
As noted in a recent Demand Gen Report article, B2B buyers are now using a wider range of sources than ever before to research their purchases. It's part of a trend that will have profound implications for sales and marketing professionals.
That's the key takeaway from a recent webinar –  An Exclusive Look Inside The Mind Of Today's B2B Buyer," – that featured speakers from Demand Gen Report and Act-On Software. During the webinar, Andrew Gaffney, Editor of Demand Gen Report and Atri Chatterjee, CMO of Act-On Software, shared insights to the B2B buying process and the impact of the Web.
Read more...
Industry News
Wednesday, 17 October 2012 08:54

Demandbase, a provider of B2B marketing technology solutions, today announced a new online ad-targeting service designed for the business-to-business market.
The company's Demandbase Company-Targeted Advertising platform will allow B2B advertisers to deliver online ads tailored to specific companies or to groups of companies that match particular attributes. The platform also includes measurement and performance analysis tools.
Read more...
Industry News
Tuesday, 16 October 2012 16:02

Aprimo yesterday announced the availability of its Digital Messaging Center, a comprehensive cloud-based solution that offers a hub for managing digital messaging activity. The Digital Messaging Center incorporates messaging technology obtained through Teradata's recent eCircle acquisition.
Aprimo Digital Messaging Center integrates with web analytics tools, CRM platforms, e-commerce systems and in-house databases to provide real-time access to customer preferences and behavioral data from all channels. The solution enables marketers to operate more efficiently, while simultaneously building customer trust by providing automation support in the following areas:
Read more...
Demand Generation Strategies
Tuesday, 16 October 2012 09:40

As the marketing automation market matures, it makes sense for vendors to focus more heavily on specialized, industry-specific offerings. That's exactly what Eloqua is doing with its just-released Eloqua Asset Management solution.
Eloqua Asset Management, according to the company, is designed to help "mutual fund wholesalers, institutional asset managers, and marketers within the financial services sector to strengthen relationships while reducing overall marketing costs." The company also claims that its offering is the first of its type to target asset management marketers.
Read more...
<< Start < Prev 101 102 103 104 105 106 107 108

109

110 Next > End >>


Page 109 of 243
Demanding Views
By Jeff Pedowitz and Kevin Joyce, The Pedowitz Group
In the latter part of the 19th century John Wanamaker, the father of modern advertising, is reputed to have said "Half the money I spend on advertising is wasted; the trouble is I don't know which half." Imagine you could demonstrate and manage the impact of marketing on revenue? Imagine you knew which half of your budget was well spent?
For a B2B company with sales cycles of more than six months this may still not be easy. Notice we are not talking about a labor of Sisyphus, pursuing marketing ROI on a single marketing initiative.
Read more...
Bulletin Board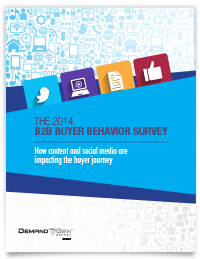 Demand Gen Report's 2014 B2B Buyer Behavior Survey provides insights into how B2B buyers make their decisions. Buyers are waiting longer to engage with sales, but they are more satisfied with the process than in years past. For an in-depth look at this research, download the report now!
Solution Spotlight
The Infusionsoft Small Business Sales and Marketing Scorecard analyzes a business's current sales and marketing processes and provides customized recommendations to improve effectiveness and boost sales.
Read more...
Follow Us
Industry Events
When: April 7 – 9, 2014
Where: San Francisco, CA
Join the Marketing Nation as over 3,500 of your peers, colleagues and thought leaders gather to celebrate Innovation in the Nation. Summit 2014 will provide an engaging experience to grow your expertise and network over two and a half days. Connect with ideas, marketers, and resources to help YOU achieve success faster!
Read more...
When: April 23 – 25, 2014
Where: Phoenix, AZ
#ICON14 is the eighth annual conference for small business, hosted by Infusionsoft. This 3-day event brings together the brightest minds in small business from around the world to learn, network and share best practices for success. The event provides everything from inspiring keynote speakers to hands-on Infusionsoft training, plus tips on lead generation, conversion and customer delight. Breakout sessions cover a range of topics like Infusionsoft product training, marketing strategy, social media, business management, automation, branding, copywriting, affiliate marketing and more.
Read more...
When: May 21 – 23, 2014
Where: Orlando, FL
The SiriusDecisions' annual Summit is a unique three-day conference where SiriusDecisions analysts and top sales and marketing leaders from Fortune 500 companies and major SMBs share how b-to-b organizations are solving critical issues that hinder predictable growth. Each year, the theme focuses on aspects of how sales and marketing can, and should, intersect.
Read more...