Data Management
Written by Glenn Taylor, Associate Editor
Wednesday, 16 October 2013 08:42
CRM systems have long been the hub of sales activity, but they are becoming an increasingly important tool for marketers.
The evolution of CRM platforms has coincided with the integration of sales and marketing teams, in which marketers are playing a larger role throughout the sales cycle. In addition to generating leads, marketers are being tasked with ensuring those leads result in sales, and the CRM remains the central source of sales activity.
Read more...
Industry News
Tuesday, 15 October 2013 09:17
Brainshark, a provider of cloud-based business presentations software and solutions, announced that its Brainshark On-Demand application has been integrated with Salesforce Identity to enable access through a single sign-on.
Access to Salesforce and Brainshark through one log-in screen makes it convenient for users to access their apps while also allowing administrators an easier way to manage access across multiple apps, Brainshark officials noted.
Read more...
Marketing Analytics
Monday, 14 October 2013 09:26
Lattice Engines announced the Lattice Data Cloud, which is designed to bring together web, social and proprietary buying signals to deliver predictive insights to marketing and sales.
The Lattice Data Cloud combines information from tens of thousands of data sources, millions of web sites, dozens of social sites and in-depth third-party data on more than 30 million businesses.
Read more...
Data Management
Friday, 11 October 2013 09:20
A new class of vendors is emerging to help marketers improve their customer databases, according to a new report from Raab Associates. The Guide to Customer Data Platforms describes systems that give marketers control of building customer databases to support cross-channel marketing programs.
Unlike traditional marketing automation systems, these products do not necessarily deliver marketing messages, according to David M. Raab, Principal of Raab Associates and author of the report. Instead, they provide shared data and analytics to coordinate and optimize messages delivered by multiple channel systems.
Read more...
Industry News
Thursday, 10 October 2013 09:17
Vidyard, a video marketing platform provider, have announced the launch of the Vidyard app for ExactTarget, which is designed to provide marketers with an effective way to share video through email.
The Vidyard app for ExactTarget adds deeper functionality and interactivity to email campaigns, as well as detailed analytics data to measure your return-on-investment (ROI), company officials noted. After an individual leads open an email, Vidyard analytics identifies who watch the associated video content and for how long.
Read more...
<< Start < Prev 101 102 103 104 105 106 107 108

109

110 Next > End >>


Page 109 of 313
Demanding Views
By Judd Marcello, Smartling
To effectively compete in today's global market, it's no longer enough to have a website and SEO strategy targeted only at the English-speaking world.
Companies that have customers around the globe — or multilingual customers in the U.S. — need to think about translating and localizing their websites, mobile apps and other digital content, and then optimizing each for relevant organic search ranking, traffic and conversions.
Read more...
Bulletin Board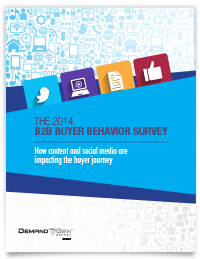 Demand Gen Report's 2014 B2B Buyer Behavior Survey provides insights into how B2B buyers make their decisions. Buyers are waiting longer to engage with sales, but they are more satisfied with the process than in years past. For an in-depth look at this research, download the report now!
Solution Spotlight
Socialwhirled is a multichannel marketing and advertising campaign platform designed to help align company messaging across social, mobile and digital channels.
Read more...
Follow Us
Industry Events
When: June 8 - 11, 2015
Where: Chicago, IL
eMetrics Summit is the only comprehensive event dedicated to digital analytics and marketing optimization. As the leading conference covering the impact of data & technology on marketing, the eMetrics Summit focuses on driving business results through data analysis and technology adoption.
Read more...