Demand Generation Strategies
Monday, 04 February 2013 13:27
Demandbase, which offers a real-time targeting and personalization platform, received a U.S. Patent that protects the processes used to identify businesses visiting web sites through the use of network Internet Protocol (IP) addresses.
Read more...
Rich Media
Monday, 04 February 2013 13:08
Having a solid social media plan in place around your marketing events can boost engagement and overall awareness before, during and after the event. Marketo offers a checklist for generating buzz about your event through social channels.
Read more...
Industry News
Written by Alicia Fiorletta
Friday, 01 February 2013 10:28
Content superstars such as Joe Pulizzi, Founder of the Content Marketing Institute, and Ardath Albee, CEO of Marketing Interactions, are slated to speak at this year's Content2Conversion Conference, presented by Demand Gen Report. The event will be held April 22 to 23, 2013, at the Times Center in New York City.
During the two-day event, thought leaders will share their expertise with organizations striving to stand out in the emerging world of content marketing. Touted as a must-attend event for education and networking, B2B and channel executives attending C2C will learn the ins and out of mapping, developing and utilizing content marketing to nurture buyer relationships and enhance conversations with clients and prospects.
Read more...
Industry News
Friday, 01 February 2013 15:34
Black Ink, a business unit of Winsper, released its Eye On Enterprise Marketing ROI Suite that integrates with marketing automation systems and other enterprise platforms to track marketing's contribution to the bottom line.
Eye On is a real-time, SaaS solution that reports on more than 50 interdependent key performance indicators (KPIs). Company officials said the suite works in any database environment, including enterprise resource planning, salesforce automation, marketing resource management, marketing automation, and point-of-sale systems.
Read more...
Industry News
Thursday, 31 January 2013 11:06
TeleNet Marketing Solutions, a B2B lead generation firm, reported that revenues were up 7% and the company added seven customers and 14 employees in 2012.
Of the seven new clients, three have annual revenues of more than $1 billion. Kathy Rizzo, TeleNet's Vice President of Sales and Marketing, credited the success to the company's strong relationships with the businesses it represents.
Read more...
<< Start < Prev 101 102 103 104 105 106 107 108

109

110 Next > End >>


Page 109 of 263
Demanding Views
By Hayley Mullen, Content and Community Manager, Uberflip
I'm tempted to start by calling marketing automation the "hot new trend," but "trend" implies something fleeting — and believe me, marketing automation isn't going anywhere. Rather, more companies are realizing the need for marketing automation as part of their strategy, especially as content/inbound marketing replaces traditional in-your-face marketing.
If you're new to marketing automation, the term can be misleading — automated means less work, right? Well, yes and no. A marketing automation platform will handle much of the grunt work, streamline existing processes, and provide the kind of insight into your audience that would take hours to dig up if done manually. But it's not meant to take over your marketing for you. It's meant to cut down on production time and lay the foundation for better marketing. Making the most of that is up to you.
Read more...
Bulletin Board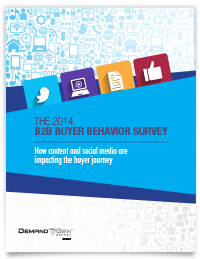 Demand Gen Report's 2014 B2B Buyer Behavior Survey provides insights into how B2B buyers make their decisions. Buyers are waiting longer to engage with sales, but they are more satisfied with the process than in years past. For an in-depth look at this research, download the report now!
Solution Spotlight
Terminus is a platform that provides B2B marketers with a more holistic approach to targeting leads by incorporating display advertising into their marketing strategy.
Read more...
Follow Us
Industry Events
When: August 10 – 12, 2014
Where: New York, NY
This three day conference includes an exhibit hall with affiliates, merchants, vendors, and networks, as well as multiple tracks of educational sessions covering the latest trends and information from affiliate marketing experts.
Read more...
When: September 15 – 18, 2014
Where: Boston, MA
INBOUND's purpose is to provide the inspiration, education, and connections you need to transform your business. This September, we will host thousands of marketing and sales professionals from almost every industry imaginable and from all corners of the globe at the Boston Convention & Exhibition Center. In 2013, we had 5,500 attendees from 35 countries, and we're excited to be bigger than ever this year.
Read more...
When: October 8 – 10, 2014
Where: Boston, MA
Are you armed and ready to meet the marketing challenges of today, tomorrow, and beyond? With technology and the way we live changing rapidly, B2B marketers have so many options and tools that it can be overwhelming. At the 2014 B2B Marketing Forum we will have inspirational speakers presenting on the hottest, smartest topics—giving you the knowledge you need to thrive in 2014, 2015 and beyond. Get ready to bullet-proof your marketing for the future and come out a modern marketing rock star!
Read more...