Rich Media
Tuesday, 28 May 2013 16:55
With corporate users sending and receiving an average of 112 emails per day, it is still the most popular communication vehicle for marketers, ahead of SEO and event marketing, according to this infographic from Dekh. Email is most likely to be opened on Tuesdays.
Read more...
Revenue Strategies
Tuesday, 28 May 2013 09:10
Marketo announced Marketo Financial Management (MFM), an application to provide marketers with an up-to-date view of marketing spend so that they can forecast accurately, find and reallocate program dollars and spend to plan. MFM's web-based, automated approach is designed to replace spreadsheets and manual processes to easily share and manage budgets from a single source, according to Marketo officials.
"Marketing organizations need a system for budgets and operational data, just like other departments," said Kristen Petersen, Director, Marketing Operations at F5 Networks, a provider of application delivery networking services. "Combining budget management and marketing automation in a single marketing platform is a big win for marketers. We expect Marketo's solution to help marketing improve budget oversight and simplify the relationship between marketing and finance."
Read more...
Social & Mobile
Friday, 24 May 2013 09:53
ExactTarget announced that its marketing automation platform Pardot is now integrated with Facebook, enabling marketers to acquire new prospects through the social media channel.
The new capability integrates Pardot's technology into Facebook tabs built on ExactTarget's SocialPages, enabling marketers to capture leads by providing prospects an opportunity to register for contests or special offers on Facebook.
Read more...
Demand Generation Strategies
Thursday, 23 May 2013 08:37
Cloud-based marketing provider Vocus added new email features to its Vocus Marketing Suite.
The latest version includes:
Read more...
Industry News
Tuesday, 21 May 2013 12:16
Brainshark, recently introduced the Brainshark Sales Enabalement Portal for sales teams to manage content in a single, searchable repository. As part of the Sales Enablement Suite, the portal is mobile-optimized to enable team members to find, filter and search for relevant sales, marketing and training materials, according to Brainshark officials.
Read more...
<< Start < Prev 101 102 103 104 105 106 107 108

109

110 Next > End >>


Page 109 of 286
Demanding Views
By Jamie Grenney, VP of Marketing, Infer
It's no secret that marketers who embrace data and use it to optimize their programs are able to innovate faster. I've had the pleasure of talking with many of these forward-thinking marketing experts, and compiled the following list of seven ways they're incorporating not just data, but powerful predictive intelligence, into demand generation campaigns:
Read more...
Bulletin Board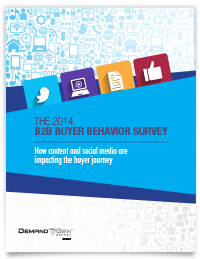 Demand Gen Report's 2014 B2B Buyer Behavior Survey provides insights into how B2B buyers make their decisions. Buyers are waiting longer to engage with sales, but they are more satisfied with the process than in years past. For an in-depth look at this research, download the report now!
Solution Spotlight
ZoomInfo Pro is a prospecting tool designed to help sales teams save time searching for leads, and spend more time selling to the right target audience with the highest chance to close.
Read more...
Follow Us
Industry Events
When: February 16 - 18, 2015
Where: Scottsdale, AZ
The B2B Content2Conversion Conference brings together the top thought leaders and practitioners in both content and demand generation. The combined agenda provides real-world case study examples, as well as actionable takeaways on how marketers can better target, engage and convert prospects into customers. Taking place in Scottsdale, Arizona, the B2B Content2Conversion Conference provides you with a playbook to optimize your 2015 marketing plans.
Read more...
When: February 23 – 26, 2015
Where: Las Vegas, NV
Discover how-to details and strategies for fast, measurable digital marketing success. All of it is real-world experience grounded in rigorous research and taught by successful marketers who face your same challenges. Learn how to make your email campaigns — and your career — more successful than ever and do it within a world-class venue. It's no wonder leading organizations consider Email Summit a priority investment year after year.
Read more...