DemandGen Reports
Monday, 02 April 2012 12:51

Callidus Software last week announced that it has closed an agreement with Certify Data Systems to adopt Callidus' LeadFormix marketing automation platform to manage and optimize the company's lead generation activities.
Certify Data Systems is a San Jose, Calif. based healthcare information technology company. The company's products are designed to facilitate the movement of information between hospitals, physicians, clinics and other healthcare facilities.
Read more...
DemandGen Reports
Monday, 02 April 2012 12:56

Sales and marketing software vendor Infusionsoft today announced a major update to its flagship software platform, including updates to its user interface, lead generation and scoring, and other capabilities.
Infusionsoft is an integrated sales and marketing product designed specifically for small businesses. It includes a suite of CRM, email marketing, e-Commerce, lead generation and marketing automation tools that emphasize ease of use in both B2B and B2C environments.
Read more...
DemandGen Reports
Thursday, 29 March 2012 08:00
DemandBase, a provider of on-demand B2B marketing software, today announced support for Dun & Bradstreet D-U-N-S numbers. DemandBase will add the new capabilities to its existing Real-Time Identification Service solution.
DemandBase gives B2B marketers the ability to identify and analyze incoming web traffic based on more than 40 business attributes, including company name, size, location, annual revenue, and industry type. Marketers can use this information to segment incoming traffic, tailor content marketing to specific audiences, generate more accurate analytics, and capture lead-generation data without the use cookies. The Real-Time Identification Service can also be integrated with a number of leading marketing automation, CRM and analytics platforms.
Read more...
Feature Articles
Written by Amanda F. Batista
Tuesday, 27 March 2012 13:31
Microsoft Corp. last week hosted its Convergence Event in Houston, TX, highlighting a variety of added functionality and integrations for sales and marketing teams.
Marketing automation vendors cite a rapidly growing interest among customers in the Microsoft Dynamics CRM platform, which, according to industry insiders, is now ranking as the number two platform behind Salesforce from an adoption perspective. Industry insiders point to unique capabilities of the Dynamics CRM platform, such as closed loop marketing, lead importing, campaign response capture and dashboards, as drivers for the growth.
Read more...
Infographics
Tuesday, 27 March 2012 10:22
As marketers cultivate an increasingly critical role in the revenue discussion, this Eloqua infographic highlights the business drivers behind a greater effort to measure marketing initiatives. A whopping 89% of marketers said  they've increased their emphasis on marketing measurement in the last 12-24 months. 
Read more...
<< Start < Prev 101 102 103 104 105 106 107 108

109

110 Next > End >>


Page 109 of 215
Bulletin Board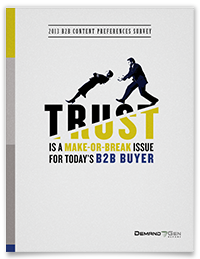 Download Demand Gen Report's 2013 Content Preferences Survey for the latest research on the content that matters most to B2B buyers.
Solution Spotlight
Response Wise for Salesforce adds functions such as email marketing, unlimited sending, robust campaign reporting and more to Salesforce.
Read more...
Follow Us
Demanding Views
By Hugo Bader, Director Of Business Development, DialAmerica
Answering a seemingly simple question — what is a lead? — is in actuality one of the more challenging aspects of marketing and sales. Finding a common definition of how to classify new business among different companies is nearly impossible, and what consistently surprises me is how much the definitions vary within any single organization.
Read more...
Industry Events
When? August 19-22
Where? Hynes Convention Center - 900 Boylston Street - Boston, MA
That's right, the INBOUND conference is a must-attend event for marketers worldwide to experience the inbound marketing movement by learning, watching, using, talking, and networking for four whole days in the heart of Boston's emerging tech scene.
Read more...

When: April 8-10, 2013.
Where: Hilton San Francisco Union Square - 333 O'Farrell St., San Francisco, CA.
No matter what time of year you visit San Francisco, you'll find plenty of things to see and do. San Francisco is home to world-class restaurants, breath-taking sites and beautiful scenery.
Tweet with us: #mus13
Read more...
Achieving Measurable Marketing Results Across The Enterprise
Date: June 26, 2012 Time: 8am - 12pm Where: MacArthur Park Restaurant in Palo Alto, CA
Read more...
September 4-5-6, Columbus Convention Center
Columbus, Ohio USA
Read more...