Industry News
Written by Owen McDonald, Contributing Author
Tuesday, 14 August 2012 07:43

The wait is over: Marketing automation is now a publicly traded technology. Eloqua (Nasdaq: ELOQ) went public on August 2 – the first such firm to do so – issuing eight million shares at an opening price of $11.50 per share.
The company's stock price climbed as high as $15 during the first week of trading and at press time was trading near $13.92 a share.
The initial public offering (IPO) places Eloqua's market capitalization at $368 million, or 4.4 times its sales of $85 million in the 12 months through June 2012, according to data compiled by Bloomberg. The Wall Street Journal reported that Eloqua's revenue increased 42% to $45 million this fiscal year, although the company reported a net loss of $5.5 million, compared with a loss of $3.5 million in the first half of the prior fiscal year.
Read more...
Social & Mobile
Monday, 13 August 2012 10:21

Distribion, Inc., a provider of web-based marketing automation software, last week announced the release of a social media marketing tool tailored for enterprises working in highly regulated industries.
The Distribion Social Media Bundle is designed to work with the company's existing suite of distributed marketing automation tools. The platform offers marketers and local sales reps a single, shared platform for managing branded, compliance-ready content that can be distributed across email, print and social media channels.
Read more...
Demand Generation Strategies
Thursday, 09 August 2012 00:00

More B2B marketers are investing in data cleansing techniques to segment their target audiences and help prospects through the buyer journey. According to Maribeth Ross, VP of Marketing for NetProspex, these techniques allow marketers to target audiences more effectively; as a result, they generate more leads and see improvements in marketing-generated revenue metrics.
During a recent webinar -- "To Buy or Not to Buy… That is the Question: When and How to list in your B2B marketing programs" -- Ross explained the right time to use a contact list and the number of contacts needed to get results. Ross also discussed key facts about the data-buying process, as well as the necessary steps marketers should take after making a purchase.

By offering a multi-touch program, marketers can connect with prospects throughout the buying process, while exposing them to relevant content that promotes them to "hand-raiser status," noted Ross.
Read more...
Industry News
Wednesday, 08 August 2012 00:00

Infogroup Targeting Solutions yesterday introduced Sapphire, an integrated marketing database powered by the company's Data Axle real-time data platform. Sapphire is designed to provide B2B marketers with multichannel engagement tools such as analytics, email, online advertising and lead generation.
Among the Sapphire prospect data offerings are new selections including: buying authority, software on site, hardware on site, area of work and government level. Sapphire is derived from over 350 response lists that combine Infogroup Targeting Solutions' high-quality data with a variety of additional sources from premier U.S. data providers that have been handpicked and invited to participate.
Read more...
Industry News
Written by Matthew S. McKenzie
Tuesday, 07 August 2012 10:14

Over the past two years, Salesforce.com has embraced social media marketing as a key part of its long-term growth strategy. Today, as the company consolidates its acquisitions of Buddy Media and Radian6, some industry-watchers are asking whether a marketing automation vendor might be the next item on its shopping list.
The speculation has focused on Salesforce.com's recent embrace of the term "marketing cloud," and whether the company aims to extend the concept beyond its current focus on social media marketing.
"I am really excited about the Marketing Cloud," Benioff said during the company's Q1 earnings call. "I really think it is a multibillion-dollar opportunity just as we've seen the Sales Cloud is and the Service Cloud is and the platform is . . . By the time we get to Dreamforce [in September 2012], I think now we'll have a lot to talk about in regards to the marketing cloud."
Read more...
<< Start < Prev 101 102 103 104 105 106 107 108

109

110 Next > End >>


Page 109 of 232
Demanding Views
By Michael Idinopulos, CMO, PeopleLinx
We've seen social disrupt a lot of professions: Journalism, retail, telephony, encyclopedias, art photography, recorded music, classified advertising, transportation, real estate and hospitality.
Is professional marketing next?
Read more...
Bulletin Board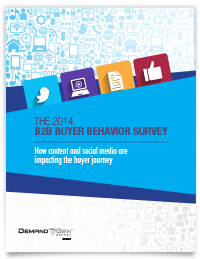 Demand Gen Report's 2014 B2B Buyer Behavior Survey provides insights into how B2B buyers make their decisions. Buyers are waiting longer to engage with sales, but they are more satisfied with the process than in years past. For an in-depth look at this research, download the report now!
Solution Spotlight
Kenshoo unveiled a prototype of its latest mobile application — Kenshoo Anywhere — which will enable users to view performance reports across various digital marketing assets and metrics.
Read more...
Follow Us
Industry Events
When: March 18 – 20, 2014
Where: New Orleans, LA
Pubcon, the premier social media and optimization conference and expo, will hold its multi-track New Orleans event at the New Orleans Convention Center in the city they call The Big Easy. Pubcon New Orleans 2014, supported by the industry's leading businesses, speakers, exhibitors, and sponsors involved in social media, Internet marketing, search engines, and online advertising, will offer a week-long look at the future of technology presented by many of the world's top speakers.
Read more...
When: March 24 – 28, 2014
Where: Salt Lake City, UT
At Summit 2014, you'll learn how to find and make the most of every marketing opportunity. Hear from leading innovators, explore the latest tools and trends, and see how companies are using Adobe Marketing Cloud to give them the insights they need, faster and smarter than ever. Join us at Summit to discover how Adobe can help you get quantifiable marketing results to maximize your impact and revenue.
Read more...
When: March 25 & 26, 2014
Where: Mirage Hotel & Casino, Las Vegas, NV
LeadsCon showcases the best people and companies in vertical media and direct-response marketing. 5000+ people rely each year on LeadsCon for unparalleled insights and access to marketing leaders. Attend to understand the ever evolving landscape of vertical media and marketing and to get more business done.
Read more...