Industry News
Thursday, 07 March 2013 12:56
SalesFUSION will use the $1 million in Series A-1 venture capital is has raised to quadruple its sales and marketing team and have a greater presence at industry trade shows, according Chad Ruff, founder and CEO of the cloud marketing automation software company.
"The marketing automation space has been growing at a dramatic pace for the past few years and we are poised to take advantage of the expanding marketplace," Ruff told Demand Gen Report. "We have been doubling our revenue over the past several years, and this will allow us to expand our marketing and sales head count by 400%." The company currently has seven people on the sales team and three people in marketing, he said.
Read more...
Industry News
Thursday, 07 March 2013 07:00
More companies are investing in cloud-based applications, including marketing automation, to take advantage of the low cost, improved security and mobile accessibility. In fact, cloud computing is expected to stay in the double digits through 2016.

"Cloud computing continues to grow," according to a recent TechRepublic cloud-computing report. "Companies implementing SaaS solutions are overwhelmingly pleased with their outcomes, with 91% reporting that their SaaS solutions met or exceeded expectations."
Read more...
Rich Media
Wednesday, 06 March 2013 13:35
Navigating is always easier with a map, and getting around the twists and turns of marketing automation workflow is no exception. The people at Neolane put together a subway map, with subway line representing a category of automation and the stops where the subway lines intersect representing workflow examples spanning multiple categories.
Read more...
Social & Mobile
Written by Kim Zimmermann, Managing Editor
Wednesday, 06 March 2013 09:00
While B2B marketers say they are mining their social networks for leads and opportunities to engage with customers, they continue to lag behind their B2C cohorts in this regard. That said, more B2B marketers are incorporating social media into their messaging mix as it becomes easier to track results and attribute leads to social media outreach.
"Social media is becoming less of a side game," said Meghan Keaney Anderson, Product Marketing Manager for HubSpot. "Social media grew up alongside other marketing channels, and with the exception of social sharing/follow buttons on web sites and in emails, it has largely remained an isolated channel. With the maturation of integrated marketing software, marketers are starting to be able to bring social data much further into the fold of the rest of their marketing channel."
Read more...
Social & Mobile
Tuesday, 05 March 2013 11:48
Silverpop announced new mobile messaging capabilities that allow Silverpop users to implement automated, behavior-based SMS campaigns.
Silverpop partnered with Velti, a provider of mobile marketing and advertising technology, to develop these mobile features. The functionality includes previously available features such as email opt-in via SMS, promotional texts and text alerts, as well as new capabilities, including the following:
Read more...
<< Start < Prev 101 102 103 104 105 106 107 108

109

110 Next > End >>


Page 109 of 270
Demanding Views
By John Bara, CMO, Mintigo
I have been through multiple mergers and acquisitions in the software industry. In each case, business models depend on successful cross-selling of new products and services to respective customer bases of the newly combined companies.
Have you been a part of a merger or acquisition? Was the newly combined company pleased with the results, or did they disappoint? What was the success rate of finding existing customers to cross-sell the newly acquired products or services? How were those targets selected?
Read more...
Bulletin Board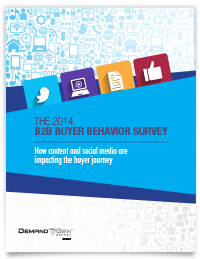 Demand Gen Report's 2014 B2B Buyer Behavior Survey provides insights into how B2B buyers make their decisions. Buyers are waiting longer to engage with sales, but they are more satisfied with the process than in years past. For an in-depth look at this research, download the report now!
Solution Spotlight
ChimpSync is designed to provide MailChimp users with Salesforce integration, allowing users to sync contacts, leads and other campaign data between the two platforms.
Read more...
Follow Us
Industry Events
When: September 15 – 18, 2014
Where: Boston, MA
INBOUND's purpose is to provide the inspiration, education, and connections you need to transform your business. This September, we will host thousands of marketing and sales professionals from almost every industry imaginable and from all corners of the globe at the Boston Convention & Exhibition Center. In 2013, we had 5,500 attendees from 35 countries, and we're excited to be bigger than ever this year.
Read more...
When: October 8 – 10, 2014
Where: Boston, MA
Are you armed and ready to meet the marketing challenges of today, tomorrow, and beyond? With technology and the way we live changing rapidly, B2B marketers have so many options and tools that it can be overwhelming. At the 2014 B2B Marketing Forum we will have inspirational speakers presenting on the hottest, smartest topics—giving you the knowledge you need to thrive in 2014, 2015 and beyond. Get ready to bullet-proof your marketing for the future and come out a modern marketing rock star!
Read more...
When: October 13 – 16, 2014
Where: San Francisco, CA
Whether you're a company of five or a Fortune 500, you're going to learn a lot of innovative ways to improve your business at Dreamforce. With over 1,400 sessions and thousands of live solutions from the world's largest cloud ecosystem, Dreamforce has tailored content specific to your business size and type, for any role in your company.
Read more...