Industry News
Thursday, 12 February 2015 11:35
Oceanos, a B2B list intelligence company, announced the release of the Oceanos Cloud Portal, a solution designed to give users real-time data management and access to data cleansing and appending features by directly connecting with their marketing automation platform.
The portal is available for Eloqua and Marketo customers, and the real-time connection positions users to keep their data up-to-date — no matter its location. Users can then use Oceanos' verify multiple data points for accurate information and insights.
Read more...
Rich Media
Wednesday, 11 February 2015 00:00
B2B buying can be attributed to many factors, but the growth and evolution of technology is a notably large influence in the way B2B buyers have adapted the way they research buying decisions. This infographic from the New Jersey Institute Of Technology highlights key stats and figures showing how the growth of technology has made an impact on the future of digital marketing — from social media and mobile to Big Data.
Read more...
Content Strategies
Written by Brian Anderson, Associate Editor
Wednesday, 11 February 2015 10:45
The more than 450 B2B marketers who will be gathering in Scottsdale, AZ next week for the Content2Conversion and Demand Gen Summit events will be getting something of a wake-up call from the top analysts presenting. Despite the increased investments in content marketing, there is still a considerable disconnect in creating messaging that is relevant and compelling to buyers.
"B2B organizations spend hundreds of thousands — if not millions — of dollars on content every year, both for content marketing and for 'traditional' marketing," said Erin Provey, Service Director for Strategic Communications Management at SiriusDecisions, who will be presenting the keynote session. "Our research shows that a whopping 60-70% of content is never used by anyone (sales reps, prospects, customers, etc.). Think about the waste that represents! Content marketers have the potential to optimize both process and quality, increasing the potential of that content to contribute value to the business."
Read more...
Industry News
Wednesday, 11 February 2015 10:03
Marketo announced its fourth quarter and full year 2014 financial results, highlighting 50% growth in revenue Q4 2014 and an annual revenue increase of 56% year-over-year — bringing the overall total to $150 million.
The announcement comes after a busy year for the company, where it saw the LaunchPoint ecosystem officially double in size since its inception in 2013. The marketing software provider also integrated with several companies such as Cloudwords, DataHero and SoMedia Networks.
Read more...
Content Strategies
Tuesday, 10 February 2015 18:10
Compelling content that entertains and educates its target audience can often be more successful than other generic content shared during a campaign. It is crucial that content marketers align with their buyers and bring context to the content that they are providing prospective buyers. Without this alignment, their content marketing initiatives will never have a major impact on buying decisions.
Laura Ramos, VP and Principal Analyst at Forrester Research, will be diving into the topic of adding contextual storytelling into content marketing initiatives during her session at the B2B Content2Conversion Conference, taking place February 16-18 in Scottsdale, Arizona.
Read more...
<< Start < Prev 1 2 3

4

5 6 7 8 9 10 Next > End >>


Page 4 of 303
Demanding Views
By Heidi Lorenzen, CMO, Cloudwords
To reach 95% of business professionals, a brand must speak 10 languages. That's a lot of translating, even for today's modern marketers who now have more than 1,000 marketing technologies available to them for boosting productivity, scaling personalization, and simplifying and accelerating localization. According to a recent study from DNN Software, 15% of marketers surveyed use 10 or more different technologies for their daily work activities.
Good marketers know that creating a personalized experience for customers in other territories that generates demand means identifying and localizing the most important digital touch points. Marketing in multiple languages is an imperative for companies looking to build brands around the world, and it requires commitment, time and energy — as well as the right technology — to set themselves up for success.
Read more...
Bulletin Board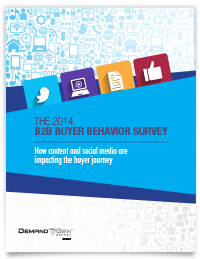 Demand Gen Report's 2014 B2B Buyer Behavior Survey provides insights into how B2B buyers make their decisions. Buyers are waiting longer to engage with sales, but they are more satisfied with the process than in years past. For an in-depth look at this research, download the report now!
Solution Spotlight
LeanData is an account-based lead management suite designed to support account-based marketing and target account selling initiatives.
Read more...
Follow Us
Industry Events
When: March 25 - 27, 2015
Where: San Diego, CA
Social Media Marketing World 2015 is the world's largest social media marketing conference. By attending, you'll make connections with 100+ of the world's top social media pros (plus 2500 of your peers) and you'll discover amazing ideas that'll transform your social media marketing strategies.
Read more...
When: March 31 - April 1, 2015
Where: San Francisco, CA
MarTech is a vendor-agnostic forum for understanding the breadth of marketing technologies and how organizations can effectively integrate them into their marketing strategy and operations.
Read more...
When: April 14 - 15, 2015
Where: New York, NY
In the age of the customer, marketers face three acute strategic and operational challenges: how to connect with distracted, empowered customers; how to engage customers once those connections are made; and how to nurture customer obsession as a strategic imperative throughout the organization. This Forum will teach you how to build and lead a next-generation marketing organization focused on customer obsession.
Read more...