Content Strategies
Written by Brian Anderson, Associate Editor
Wednesday, 03 December 2014 10:06
As B2B marketers flesh out their content strategies for 2015, many are taking a look at its role throughout the buyer's journey — not just for top-of-the-funnel demand generation.
In a recent webinar hosted by NewsCred, trends and strategies for content marketing in 2015 were discussed — highlighting how the buyer's journey has changed and how B2B marketers can leverage content to meet the needs of their target audience.
"Content marketing is a growing priority for many B2B marketers," said Michael Brenner, Head of Strategy at NewsCred, during the webinar session. "This is because it represents the gap between what we — as brands — publish, and what our customers are looking for."
Read more...
Industry News
Tuesday, 02 December 2014 09:45
Salesfusion, a marketing automation solutions provider for SMBs, unveiled a monthly email deliverability monitoring and analysis service designed to provide campaign-specific metrics, analysis of campaign results and best practices to help marketers further enhance their campaigns.
The company has also been accepted into the Email Sender & Provider Coalition (ESPC). Group members collaborate to design solutions intended to alleviate spam and deliverability concerns. Other members of the ESPC include Experian, Adobe, Oracle and Epsilon.
Read more...
Social & Mobile
Monday, 01 December 2014 10:55
Swrve, a mobile marketing automation provider, reported a 250% increase in revenue 250% over the first half of last year. The company also announced that it has over 750 million unique users.
The company states that more than three billion transactions take place every day through the Swrve platform, a solution designed to help automate mobile-focused campaigns and provide real-time data sharing between the platform and other marketing technology solutions.
Read more...
Industry News
Friday, 28 November 2014 11:14
Dynamic Yield, a provider of automated, real-time personalization and conversion optimization solutions, recently launched a landing page optimization module. The application is positioned to provide marketers with the ability to quickly create, publish and optimize landing pages without the need of IT support.
The new module is designed to help marketers to build and manage a large number of landing pages, personalize and customize their content, and automatically A/B test multiple variations. It also introduces the ability to create landing pages on the fly, pulling real-time data from feeds, databases and advertising campaigns.
"As a marketer, you are running dozens of concurrent campaigns," said Liad Agmon, CEO of Dynamic Yield. "Data shows that landing pages that correlate exactly to your ad messages yield significantly higher conversion rates.
Revenue Strategies
Wednesday, 26 November 2014 09:00
IBM announced the launch of IBM B2B Commerce, which is positioned to help B2B organizations deploy digital storefronts with no technical skills or expertise.
IBM B2B Commerce is designed to help B2B companies create buying experiences similar to those found on B2C e-Commerce sites.
Read more...
<< Start < Prev 1 2 3

4

5 6 7 8 9 10 Next > End >>


Page 4 of 291
Demanding Views
By Hana Abaza, Director of Marketing, Uberflip
Good, relevant content will attract visitors. Great content will keep them around a little longer. But only a truly optimized content marketing experience will ultimately convert those visitors into leads, and eventually customers.
Read more...
Bulletin Board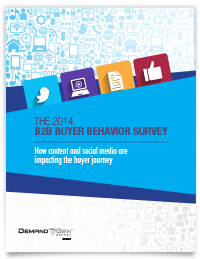 Demand Gen Report's 2014 B2B Buyer Behavior Survey provides insights into how B2B buyers make their decisions. Buyers are waiting longer to engage with sales, but they are more satisfied with the process than in years past. For an in-depth look at this research, download the report now!
Solution Spotlight
Apttus is a contract management solution designed to offer end-to-end contract lifecycle management, from the initial quote to the closed deal.
Read more...
Follow Us
Industry Events
When: February 16 - 18, 2015
Where: Scottsdale, AZ
The B2B Content2Conversion Conference brings together the top thought leaders and practitioners in both content and demand generation. The combined agenda provides real-world case study examples, as well as actionable takeaways on how marketers can better target, engage and convert prospects into customers. Taking place in Scottsdale, Arizona, the B2B Content2Conversion Conference provides you with a playbook to optimize your 2015 marketing plans.
Read more...
When: February 23 – 26, 2015
Where: Las Vegas, NV
Discover how-to details and strategies for fast, measurable digital marketing success. All of it is real-world experience grounded in rigorous research and taught by successful marketers who face your same challenges. Learn how to make your email campaigns — and your career — more successful than ever and do it within a world-class venue. It's no wonder leading organizations consider Email Summit a priority investment year after year.
Read more...