Industry News
Friday, 01 May 2015 15:21
As more people weigh in on buying decisions, the B2B sales cycle continues to grow into a prolonged process. Demand Gen Report's 2014 B2B Buyer Survey shows 34% of respondents stated the number of team members involved in the B2B purchase process increased over the past year. Also, 40% of B2B buyers waited longer than the year prior to contact B2B vendors when making a purchase decision.
Equinix, a provider of data center and colocation services to companies in the advertising, cloud services and healthcare industries, is addressing longer sales cycles by implementing TouchChat, a live-chat tool provided by customer engagement solutions provider TouchCommerce.
Read more...
Industry News
Friday, 01 May 2015 08:32
Adobe unveiled a partnership with Microsoft, a move designed to help companies better manage their marketing, sales and services to enhance customer engagement throughout the buyer's journey.
Announced at the Adobe Summit in London, the partnership includes the integration of Microsoft's Dynamics CRM with the Adobe Marketing Cloud, positioning users to leverage all of their customer engagement data for every aspect of the buying funnel — including customer retention.
Read more...
Industry News
Thursday, 30 April 2015 15:01
More than 90% of marketers believe that account-based marketing is a "must-have," but only 20% have fully implemented programs, according to SiriusDecisions' 2015 State of Account-Based Marketing (ABM) Study, which was unveiled at Demandbase's Marketing Innovation Summit for B2B.
The survey resulted indicated that wider adoption is expected, with more than 60% actively investing in technology for ABM to better align sales and marketing over the next twelve months.
Read more...
Industry News
Thursday, 30 April 2015 08:58
Cintell, a customer intelligence platform provider, has raised $800,000 in a successful round of financing. The funding is intended to help enhance product development, while also continuing the company's employee growth.
Launched in early 2015, Cintell has signed on several notable advisors, including Ardath Albee, CEO of Marketing Interactions; and Ann Handley, Chief Content Officer at MarketingProfs. The company also hired Shyam Vaidhyanathan as the company's CTO, and opened a new office in Boston.
Read more...
White Papers
Wednesday, 29 April 2015 00:00
Interactive video, which has long been a staple for top-of-the-funnel engagement, is now taking a starring role at all stages of the customer lifecycle. B2B marketers are using video engagement metrics to gain insight into the buyer's journey and capture data on how content is resonating with prospects and customers.
Read more...
<< Start < Prev 1 2 3

4

5 6 7 8 9 10 Next > End >>


Page 4 of 318
Demanding Views
By Suresh Balasubramanian, LiveHive
Without synchronization between sales and marketing, the business suffers. According to Aberdeen Group, the lack of integration of sales intelligence with sales and marketing systems causes the biggest gap between top sales performers and under-achievers. However, fewer than one out of 10 B2B companies report good alignment between their sales and marketing organizations, SiriusDecisions research shows.
Weak processes between sales and marketing have made it challenging for sales and marketing to work together successfully. While delivering immense value, existing CRM and marketing automation systems don't deliver a complete buyer picture for the organization. Furthermore, this data has not been easily shared across departments.
Read more...
Bulletin Board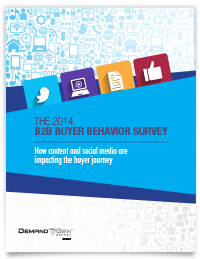 Demand Gen Report's 2014 B2B Buyer Behavior Survey provides insights into how B2B buyers make their decisions. Buyers are waiting longer to engage with sales, but they are more satisfied with the process than in years past. For an in-depth look at this research, download the report now!
Solution Spotlight
Insightpool is a social marketing platform designed to increase social media engagement with anonymous prospects within target audiences. The solution also positions marketers to produce personalized social campaigns that can nurture prospects through the buyer's journey.
Read more...