Content Strategies
Monday, 14 April 2014 10:47
When B2B marketers watch content from B2C heavyweights like Oreo and Red Bull go viral, it can make them yearn to do the same. While they may not have the same reach, there are some things that B2B marketers can borrow from B2C content marketers and traditional publishing and even go beyond that model.
"In reality, content is a struggle for most of us," Ann Handley, Chief Content Officer for MarketingProfs, told an early-morning audience at the recent 2014 Marketing Nation Summit. "Let's take what we know works in traditional publishing and give it a makeover. We need content that conveys empathy and experiences that go beyond articles and blog posts."
Read more...
Industry News
Monday, 14 April 2014 09:07
NetProspex, a cloud-based B2B marketing data management services provider, announced $13 million in series C funding, led by Spring Lake Equity Partners. The capital infusion will go towards continued product innovation and sales and marketing expansion to meet growing market demand, according to Michael Bird, who was recently promoted to CEO from president.
Read more...
Industry News
Written by Kim Ann Zimmermann, Managing Editor
Friday, 11 April 2014 16:00
As the CMO of GE, Beth Comstock works with a lot of engineers and scientists responsible for the company's jet engines and medical devices. The marketing department strives to be just as pioneering as the rest of the company, she told the audience at the 2014 Marketing Nation Summit.
"My take is that our marketing should be as innovative as our R&D," Comstock said.
Marketers should spend most of their energy on practical advancements, she said. "Marketers need to understand where the world is going and focus on practical innovation. An idea doesn't count if you can't use it."
Read more...
Industry News
Friday, 11 April 2014 14:43
Marketo handed out its annual Revvie Awards to highlight user achievements, including a 100% increase in web site conversions and $23 million in marketing-sourced revenue.
"I am inspired by our customers' innovative use of technology to build marketing programs that create personal relationships," said Phil Fernandez, president and chief executive officer of Marketo. "The transformation of marketing is just starting and this year's Revvie winners are great examples of that transformation."
Read more...
Industry News
Friday, 11 April 2014 09:18
Marketo unveiled new features, including real-time personalization, calendaring and planning and search engine optimization, at the 2014 Marketing Nation Summit this week.
"The foundation of our customer engagement platform relies on these five things: Understand the customer, orchestrate the engagement, personalize the engagement, manage and optimize," said Phil Fernandez, President and CEO of Marketo, during the keynote address. "The idea of one-to-one marketing has been around so long that it has become synonymous with the unachievable — the holy grail of marketing, with our customer engagement platform and our continued innovation, it is not only possible, but it is here. And, marketers need it more than ever today as they compete for customers' time and attention."
Read more...
<< Start < Prev 1 2 3

4

5 6 7 8 9 10 Next > End >>


Page 4 of 244
Demanding Views
By Loren Padelford, EVP of Sales, Skura Corporation
Companies are now required to hone their sales and marketing efforts to the individual needs and interests of each prospect in order to provide positive customer experiences amid the cacophony of today's marketing-soaked landscape. After all, 81% of companies with strong customer experience competencies outperform their competition, according to Peppers & Rogers Group.
Getting the right content to the right people remains a challenge for B2B marketers, and yet, there are a number of best practices that can be applied to sales efforts and marketing content creation that, even if a prospect hasn't told you what their exact needs are, can improve your chances of delivering a responsive, and timely sales pitch that aligns with your prospect's needs.
Read more...
Bulletin Board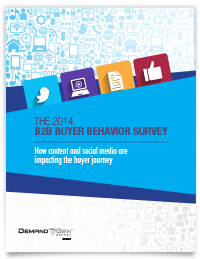 Demand Gen Report's 2014 B2B Buyer Behavior Survey provides insights into how B2B buyers make their decisions. Buyers are waiting longer to engage with sales, but they are more satisfied with the process than in years past. For an in-depth look at this research, download the report now!
Solution Spotlight
The KnowledgeTree content marketing app for Salesforce matches relevant content to leads and opportunities. The tool is designed to identify the most germane, current and effective content for each sales interaction with prospects.
Read more...
Follow Us
Industry Events
When: April 7 – 9, 2014
Where: San Francisco, CA
Join the Marketing Nation as over 3,500 of your peers, colleagues and thought leaders gather to celebrate Innovation in the Nation. Summit 2014 will provide an engaging experience to grow your expertise and network over two and a half days. Connect with ideas, marketers, and resources to help YOU achieve success faster!
Read more...
When: April 23 – 25, 2014
Where: Phoenix, AZ
#ICON14 is the eighth annual conference for small business, hosted by Infusionsoft. This 3-day event brings together the brightest minds in small business from around the world to learn, network and share best practices for success. The event provides everything from inspiring keynote speakers to hands-on Infusionsoft training, plus tips on lead generation, conversion and customer delight. Breakout sessions cover a range of topics like Infusionsoft product training, marketing strategy, social media, business management, automation, branding, copywriting, affiliate marketing and more.
Read more...
When: May 21 – 23, 2014
Where: Orlando, FL
The SiriusDecisions' annual Summit is a unique three-day conference where SiriusDecisions analysts and top sales and marketing leaders from Fortune 500 companies and major SMBs share how b-to-b organizations are solving critical issues that hinder predictable growth. Each year, the theme focuses on aspects of how sales and marketing can, and should, intersect.
Read more...