Rich Media
Wednesday, 08 April 2015 00:00
In order to increase conversions, B2B sales teams need to get into the minds of their prospective buyers. This infographic from Help Scout highlights several studies in social psychology that can be leveraged to create the right conversations that convert prospects into customers.
Read more...
Industry News
Written by Kim Ann Zimmermann, Senior Managing Editor
Wednesday, 08 April 2015 10:13
Citing the rapidly growing interest among B2B marketers in account-based marketing (ABM), Jon Miller recently left his position as VP of Marketing and Co-Founder of Marketo to launch a startup to develop an ABM platform. Miller's new company, Engagio, has already received $10 million in Series A funding.
"As I have talked to marketers over the past year, I am convinced that ABM is going to be the next big idea in B2B marketing, and it is an area that is currently being underserved," said Founder and CEO Miller in an interview with Demand Gen Report. He noted a recent survey from LeanData in which more than 80% of B2B companies reported that ABM is now a priority. "In January 2014, ABM didn't even show up as a Google search term."
Read more...
Industry News
Tuesday, 07 April 2015 08:50
Marketo unveiled new integrations with Google AdWords and Google Analytics, which position Marketo users to track and measure ad spending and provide more targeted messaging.
The integrations are designed to enable marketers to link Marketo data such as firmographic and customer profile information to their Google Analytics platform to personalize campaigns. Offline activities that are tracked in Marketo — such as when a lead is qualified and a deal is closed — can be exported to AdWords to measure the ROI of digital ad campaigns.
Read more...
Marketing Analytics
Monday, 06 April 2015 10:49
With 70% of the buyer's journey being directed by the customer, progressive B2B marketers are using data to help drive prospects through the funnel more efficiently once they do engage. This was just one of the many topics discussed in a recent webinar hosted by Marketo and Demand Gen Report.
"[Traditionally], marketing was only responsible for making prospects aware of their brand," said Mike Tomita, Senior Marketing Manager at Marketo, during the presentation. "Now, marketing has the responsibility to direct that customer's journey and build that relationship up to a point where the prospect can be handed off to sales."
Read more...
Industry News
Friday, 03 April 2015 09:33
Integrate, a cloud-based marketing platform provider, launched its Closed-Loop Media Optimizer app for Oracle Eloqua users. The app is designed to provide a holistic view of campaign performance to optimize spend and boost customer acquisition.
Announced at the Modern Marketing Experience, the app enables Eloqua users to automate closed-loop KPI reporting within Eloqua's Campaign Canvas, positioning users to make KPI data actionable on the Integrate dashboard in real-time.
Read more...
<< Start < Prev 1 2 3

4

5 6 7 8 9 10 Next > End >>


Page 4 of 314
Demanding Views
By Paul Mandeville, QuickPivot
Despite access to powerful marketing technology, B2B marketers continue to hamstring themselves when it comes to connecting with their customers — particularly in comparison to their B2C counterparts.
While B2C companies and products maintain vibrant digital communities — fueled by content and conversations — B2B products are often conspicuously absent from these channels or focus heavily on pushing corporate messages that their buyers don't care about.
Read more...
Bulletin Board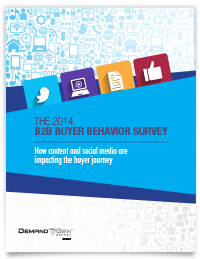 Demand Gen Report's 2014 B2B Buyer Behavior Survey provides insights into how B2B buyers make their decisions. Buyers are waiting longer to engage with sales, but they are more satisfied with the process than in years past. For an in-depth look at this research, download the report now!
Solution Spotlight
Allocadia is a marketing performance management software designed to help marketers enhance their planning and budgeting capabilities to improve overall ROI.
Read more...
Follow Us
Industry Events
When: June 8 - 11, 2015
Where: Chicago, IL
eMetrics Summit is the only comprehensive event dedicated to digital analytics and marketing optimization. As the leading conference covering the impact of data & technology on marketing, the eMetrics Summit focuses on driving business results through data analysis and technology adoption.
Read more...