Industry News
Monday, 24 February 2014 09:38
Oracle has acquired BlueKai, a cloud-based Big Data platform that enables companies to personalize online, offline and mobile marketing campaigns. This shores up the personalization capabilities of Oracle's Marketing Cloud and eases the integration of various customer databases, according to industry observers.
"Marketers have needed to unify web advertising audiences with traditional customer databases, and that is precisely what this will do," David M. Raab, Principal, Raab Associates, told Demand Gen Report. "A solid data foundation has been the missing piece in most companies' marketing architecture and this will enable Oracle to fill that gap."
Read more...
Industry News
Friday, 21 February 2014 14:25
CallidusCloud, a provider of cloud-based sales and marketing software, announced a new partnership with DocuSign designed to speed up the all-important contract signing process.
The DocuSign Cloud Partner Program will offer CallidusCloud the ability to receive legally signed documents in minutes and ease the document management process, according to executives for both companies.
Read more...
Content Strategies
Friday, 21 February 2014 11:29
DivvyHQ, vendor of a cloud-based, content planning and production workflow tool, is rolling out a private beta version of its new platform, DivvyHQ 2.0. More than a year in development, the latest version is designed to help marketers and content producers organize and execute demanding, complicated and content-centric marketing initiatives.
DivvyHQ 2.0 will feature a completely redesigned, touch/mobile-friendly interface, as well as direct publishing functionality to many of the most popular web and social media channels.
Read more...
Industry News
Thursday, 20 February 2014 17:09
Revenues for B2B marketing automation systems will grow 60% to reach $1.2 billion in 2014, according to Raab Associates' latest B2B Marketing Automation Vendor Selection Tool (VEST) report. The 60% rate is higher than the 2013 rate of 50%.
"Revenues for B2B marketing automation vendors continue to grow as adoption increases and existing customers expand their systems," said VEST author David M. Raab. "We also see continued extension into new industries, new features, and new vendor services."
Read more...
Content Strategies
Written by Brian Anderson, Associate Editor
Thursday, 20 February 2014 09:25
As the content marketing and social media landscapes continue to intersect, and B2B marketers are striving to tailor their messaging for these fast-paced channels.
In a recent webinar titled: How To Impress Your Boss, Get Ahead, And Tighten Your Bottom (Line) In 2014, Ann Handley, Chief Content Officer at MarketingProfs, discussed key strategies for maximizing content marketing and social media outreach.
Read more...
<< Start < Prev 1 2 3

4

5 6 7 8 9 10 Next > End >>


Page 4 of 232
Demanding Views
By Boaz Grinvald, CEO, BrightInfo
According to the 2014 B2B Content Marketing Research by Content Marketing Institute (CMI) and MarketingProfs, 93% of B2B marketers create content, and therefore need to mobile-optimize their content marketing strategy. Responsive design — the design methodology of web sites that automatically adapt to the device or screen resolution at hand — can affect how content offers are displayed.
Read more...
Bulletin Board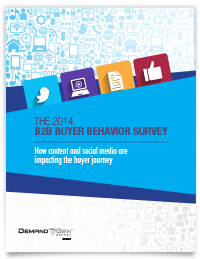 Demand Gen Report's 2014 B2B Buyer Behavior Survey provides insights into how B2B buyers make their decisions. Buyers are waiting longer to engage with sales, but they are more satisfied with the process than in years past. For an in-depth look at this research, download the report now!
Solution Spotlight
Kenshoo unveiled a prototype of its latest mobile application — Kenshoo Anywhere — which will enable users to view performance reports across various digital marketing assets and metrics.
Read more...
Follow Us
Industry Events
When: March 18 – 20, 2014
Where: New Orleans, LA
Pubcon, the premier social media and optimization conference and expo, will hold its multi-track New Orleans event at the New Orleans Convention Center in the city they call The Big Easy. Pubcon New Orleans 2014, supported by the industry's leading businesses, speakers, exhibitors, and sponsors involved in social media, Internet marketing, search engines, and online advertising, will offer a week-long look at the future of technology presented by many of the world's top speakers.
Read more...
When: March 24 – 28, 2014
Where: Salt Lake City, UT
At Summit 2014, you'll learn how to find and make the most of every marketing opportunity. Hear from leading innovators, explore the latest tools and trends, and see how companies are using Adobe Marketing Cloud to give them the insights they need, faster and smarter than ever. Join us at Summit to discover how Adobe can help you get quantifiable marketing results to maximize your impact and revenue.
Read more...
When: March 25 & 26, 2014
Where: Mirage Hotel & Casino, Las Vegas, NV
LeadsCon showcases the best people and companies in vertical media and direct-response marketing. 5000+ people rely each year on LeadsCon for unparalleled insights and access to marketing leaders. Attend to understand the ever evolving landscape of vertical media and marketing and to get more business done.
Read more...