Demanding Views
Tuesday, 27 January 2009 14:43
By Dave Green, CEO, PipeAlign
Lots of companies use email, web links, and registration for content to generate demand and nurture leads. The problem is that most companies use such these campaigns once. They engage in a monologue instead of a learning exchange. But what about a continuously running automated "dialogue" with customers and prospects? Enter Digital Dialogue, an emerging and powerful new approach to lead nurturing.
Digital Dialogue engages customers and prospects in a scalable, low-cost, automated information exchange, primarily over the Internet. Companies that sell complex solutions can use that exchange to educate and qualify potential business buyers before those buyers talk to a live representative. This education and qualification process can last for months across numerous, inter-connected exchanges.

Digital Dialogue is necessary for inquiry nurturing because most prospects don't want to talk to sales people early in an investigation of a complex product or service. It's similar to a customer that walks onto a car lot and wants only to kick the tires, look at various models and read the prices and gas mileage information. That customer doesn't want to be pressured. Car dealers dismiss such prospects as "tire kickers." (Maybe that's one of the reasons they need a bail out). Every industry that sells complex products or services has far more tire kickers than buyers. The bigger the price tag and the more complex the solution, the longer prospective buyers stay in a tire-kicking mode.


Marketers who give these inquiries to sales channels experience low follow-up rates and very few converted sales. Using a well-trained, highly professional tele-qualification team as a proxy for a sales person will help. But the yields are still low because most of the prospects are just not ready to talk. And such phone conversations, while not as costly as those by sales people, are still expensive.

Fortunately, Digital Dialogue is providing a powerful answer to this long-standing problem and promises to transform the go-to-market process for companies that sell complex solutions that require a considered selection process.

It's simple enough, of course, to use email and the web to set up nurturing tracks. The problem is that the same prospect will show up as an inquiry multiple times over a few months. Others from the same location or the same organization will too. Some prospects will look at multiple products and services. Then there are permissions and preferences and your solicitation history to take into consideration.

To address this challenge, marketers need to set up a centralized, high-velocity system across the enterprise. Every market interaction from all customer-facing operations should pass through this system each day. Apart from economic considerations, BtoB companies should design a scalable Digital Dialogue capability around organizational buying behavior and relevant communications. Here's a suggested operational roadmap to execute a Digital Dialogue:



Content Readiness: If you want to begin to replicate a conversation with customers and prospects, you'll need to organize your content around communities of interest (e.g., executive versus technical) and organizational buying behavior (i.e., how much does the individual know about your product or service and your company?). The key is relevance: what matters to each individual at a particular point in time?


Marketing Data: Getting the most appropriate content to each prospective buyer also requires a new level of rigor around marketing information. You'll need to establish information standards for lead qualification, pipeline metrics, and data transport to improve the yield from campaigns and the accuracy of metrics so that you capture useful information consistently across the enterprise. You'll also need to clean, enhance and consolidate the data so that you "remember" what each individual has "told" you previously. Finally, you'll need to organize the data model in your marketing database so that, among other things, you can track the area and depth of interest for any of your products and services.
Automated Systems: The aforementioned information standards will allow for a new level of automation in two key areas: data hygiene and a rules engine that looks at all the contacts in your marketing database and determines the next, best step in the conversation. The goal should be at least a twenty-four hour response cycle across the enterprise.

Companies that have set up such a Digital Dialogue system quickly discover they can increase the conversion ratio of inquiries to sales, shorten the timeline to a decision, and improve the all-important sales and marketing expense-to-revenue ratio.


For more information about implementing Digital Dialogue, go to www.PipeAlign.com and download our whitepaper, "A Practical Guide to Digital Dialogue" or go to Amazon to order our book, The B2B Refinery®.

Dave Green is the president of PipeAlign, LLC and the co-author of The B2B Refinery® and numerous whitepapers on demand generation and lead management. PipeAlign and its service provider partners help business-to-business companies improve sales and marketing efficiency through scalable demand generation and lead management practices and operations. Dave can be reached at This e-mail address is being protected from spambots. You need JavaScript enabled to view it or (877) 575-5515. blog comments powered by
Demanding Views
By Loren Padelford, EVP of Sales, Skura Corporation
Companies are now required to hone their sales and marketing efforts to the individual needs and interests of each prospect in order to provide positive customer experiences amid the cacophony of today's marketing-soaked landscape. After all, 81% of companies with strong customer experience competencies outperform their competition, according to Peppers & Rogers Group.
Getting the right content to the right people remains a challenge for B2B marketers, and yet, there are a number of best practices that can be applied to sales efforts and marketing content creation that, even if a prospect hasn't told you what their exact needs are, can improve your chances of delivering a responsive, and timely sales pitch that aligns with your prospect's needs.
Read more...
Bulletin Board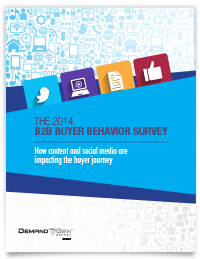 Demand Gen Report's 2014 B2B Buyer Behavior Survey provides insights into how B2B buyers make their decisions. Buyers are waiting longer to engage with sales, but they are more satisfied with the process than in years past. For an in-depth look at this research, download the report now!
Solution Spotlight
The KnowledgeTree content marketing app for Salesforce matches relevant content to leads and opportunities. The tool is designed to identify the most germane, current and effective content for each sales interaction with prospects.
Read more...
Follow Us
Industry Events
When: April 7 – 9, 2014
Where: San Francisco, CA
Join the Marketing Nation as over 3,500 of your peers, colleagues and thought leaders gather to celebrate Innovation in the Nation. Summit 2014 will provide an engaging experience to grow your expertise and network over two and a half days. Connect with ideas, marketers, and resources to help YOU achieve success faster!
Read more...
When: April 23 – 25, 2014
Where: Phoenix, AZ
#ICON14 is the eighth annual conference for small business, hosted by Infusionsoft. This 3-day event brings together the brightest minds in small business from around the world to learn, network and share best practices for success. The event provides everything from inspiring keynote speakers to hands-on Infusionsoft training, plus tips on lead generation, conversion and customer delight. Breakout sessions cover a range of topics like Infusionsoft product training, marketing strategy, social media, business management, automation, branding, copywriting, affiliate marketing and more.
Read more...
When: May 21 – 23, 2014
Where: Orlando, FL
The SiriusDecisions' annual Summit is a unique three-day conference where SiriusDecisions analysts and top sales and marketing leaders from Fortune 500 companies and major SMBs share how b-to-b organizations are solving critical issues that hinder predictable growth. Each year, the theme focuses on aspects of how sales and marketing can, and should, intersect.
Read more...