Industry News
Tuesday, 12 August 2014 07:48
The Salesforce ExactTarget Marketing Cloud announced three new features for its Journey Builder platform: Journey Maps, Journey Triggers and Journey Metrics. The new features are designed to help marketers manage and personalize customer engagement across multiple devices and channels.
Journey Maps uses a drag-and-drop interface is positioned to give marketers easier control over mapping customer journeys via email, social, mobile and online. The interface also measures performance, while providing a holistic view of how customers interact with the brand.
Read more...
Industry News
Monday, 11 August 2014 08:51
Ifbyphone, a voice-based marketing automation platform provider, announced its Summer 2014 Release, which includes technology to analyze keywords in phone conversations and integrations with a number of marketing automation platforms.
The keyword spotting technology is designed to monitor inbound sales and support calls and uses customizable criteria to score each conversation. Keyword spotting can be used to determine, among other things, if a call converted to sale and if the support agent followed approved scripts.
Read more...
Industry News
Friday, 08 August 2014 10:01
6Sense, a B2B predictive intelligence engine, announced the launch of ProductSense, a tool designed to enable companies to score a prospective buyer's intent at the product level.
The new solution seeks to leverage external behavioral data — not found in the user's CRM system — to find prospects that have the highest potential to convert. The tool can also provide users with further insights into an existing prospect's buying intent. The data collected can also be leveraged to predict future demand for products, which can aid marketers when forming strategies for particular product lines.
Read more...
Demand Generation Strategies
Written by Kim Ann Zimmermann, Managing Editor
Thursday, 07 August 2014 12:34
LinkedIn's new stand-alone version of its Sales Navigator can stream real-time updates on targeted accounts, a feature that could help B2B marketers boost their lead generation capabilities. The offering is designed to push data such as job changes, press announcements, blog posts and status updates relevant to key accounts and prospects.
This announcement follows LinkedIn's recent acquisition of Bizo, with the goal of creating a B2B marketing platform.
Read more...
Industry News
Thursday, 07 August 2014 08:26
LeadMD launched Navigate, an online educational platform designed to boost ROI by providing concise, task-based learning.
The platform will offer various forms of content covering topics such as marketing automation, sales alignment and content optimization. The platform intends to also offer instructional videos covering best practices for implementing Salesforce.com and Marketo.
Read more...
<< Start < Prev 1 2 3 4 5 6 7 8

9

10 Next > End >>


Page 9 of 274
Demanding Views
By Matt Chittle, Senior VP of Products and Strategy, Amplifinity
There are three compelling categories of benefits to an advocacy marketing strategy. The first two are somewhat obvious; the third — not so much. At least not at first. Yet, it's this third piece that's so crucial to driving sales success (and profits) in today's social world.
All advocacy programs ask customers, employees or partners — called obviously enough "advocates" — to take action. And they often do, especially when motivated in some important way. But it's the tracking and measurement of these actions over time that produces the insight companies can use and act on for long-term, strategic benefits — all of which is uniquely powerful for the following reasons:
Read more...
Bulletin Board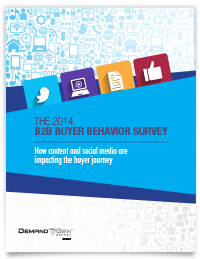 Demand Gen Report's 2014 B2B Buyer Behavior Survey provides insights into how B2B buyers make their decisions. Buyers are waiting longer to engage with sales, but they are more satisfied with the process than in years past. For an in-depth look at this research, download the report now!
Solution Spotlight
Zakscorer, an application created by Grazitti Interactive, is designed to leverage the sales intelligence, inside sales data and contact behavior for effective targeting of high-probability accounts.
Read more...
Follow Us
Industry Events
When: October 8 – 10, 2014
Where: Boston, MA
Are you armed and ready to meet the marketing challenges of today, tomorrow, and beyond? With technology and the way we live changing rapidly, B2B marketers have so many options and tools that it can be overwhelming. At the 2014 B2B Marketing Forum we will have inspirational speakers presenting on the hottest, smartest topics—giving you the knowledge you need to thrive in 2014, 2015 and beyond. Get ready to bullet-proof your marketing for the future and come out a modern marketing rock star!
Read more...
When: October 13 – 16, 2014
Where: San Francisco, CA
Whether you're a company of five or a Fortune 500, you're going to learn a lot of innovative ways to improve your business at Dreamforce. With over 1,400 sessions and thousands of live solutions from the world's largest cloud ecosystem, Dreamforce has tailored content specific to your business size and type, for any role in your company.
Read more...