Industry News
Thursday, 22 January 2015 11:42
DataHero, a self-service cloud data visualization tool, announced that it has integrated with Marketo. The integration is positioned to provide Marketo users with the tools needed to analyze lead, campaign and source activity to help target prospects that will have a bigger impact on the bottom line.
DataHero is designed to create charts based on patterns in the user's cloud data. In addition, it offers the option to build custom charts to meet individual user needs. Charts and dashboards are automatically updated as the data in Marketo changes, providing real-time, on-demand insights.
Read more...
Content Strategies
Written by Kim Ann Zimmermann, Senior Managing Editor
Wednesday, 21 January 2015 12:21
Marketers are generating volumes of content to help move prospects through the buying cycle. But in many cases, that content is not resonating with the buyer.
In her new book, Digital Relevance, Ardath Albee, CEO of Marketing Interactions, outlines how marketers can develop content and strategies that drive results.
Read more...
Rich Media
Wednesday, 21 January 2015 00:00
The rise of interactive content and the changing buying process are some of the prominent themes expected to drive online marketing for 2015. This infographic from Uberflip offers a roadmap of marketing trends.
Read more...
Industry News
Tuesday, 20 January 2015 09:52
SoMedia Networks has integrated its on-demand video production and analytics capabilities with 20 online web services and SaaS marketing platforms, including Marketo, Oracle Eloqua and Salesforce ExactTarget.
The company intends to continue integrations over the next several quarters due to the growing demand for video production by businesses of all sizes. Integration efforts are aimed toward SaaS marketing and business services in marketing automation, contact and sales management, email marketing, marketing optimization, SEO, content management, among others.
Read more...
Demand Generation Strategies
Written by Brian Anderson, Associate Editor
Monday, 19 January 2015 09:46
All B2B marketers want to keep the sales funnel filled with top-notch leads. But many factors — including the target industry, complexity of the sales cycle and size of the marketing and sales teams — can determine the success of a company's lead generation efforts. As a result, many firms turn to third parties to ensure a continuous flow of prospects.
One such company is Indiana Fluid Power (IFP), a provider of fluid power, motion control and automation systems for the industrial and mobile OEM marketplace. The company tapped LeadJen to help gather new prospects and setup briefings for its sales reps. Three months into the partnership, IFP was able to close a $500,000 deal and had several other opportunities in the pipeline.
Read more...
<< Start < Prev 1 2 3 4 5 6 7 8

9

10 Next > End >>


Page 9 of 304
Demanding Views
By Kathy Rizzo, TeleNet Marketing Solutions
How do you get a higher rate of return on your next teleprospecting campaign? All it may take is a little alignment.
If sales teams and teleprospectors are on the same page, you may see more leads converting to the pipeline. Aligning your teleprospecting team closely with your sales organizations will ultimately ensure the highest return on investment.
Read more...
Bulletin Board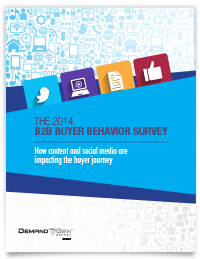 Demand Gen Report's 2014 B2B Buyer Behavior Survey provides insights into how B2B buyers make their decisions. Buyers are waiting longer to engage with sales, but they are more satisfied with the process than in years past. For an in-depth look at this research, download the report now!
Solution Spotlight
MindTouch is a knowledge management solution designed to help companies create web-native content to assist the customer support function.
Read more...
Follow Us
Industry Events
When: March 25 - 27, 2015
Where: San Diego, CA
Social Media Marketing World 2015 is the world's largest social media marketing conference. By attending, you'll make connections with 100+ of the world's top social media pros (plus 2500 of your peers) and you'll discover amazing ideas that'll transform your social media marketing strategies.
Read more...
When: March 31 - April 1, 2015
Where: San Francisco, CA
MarTech is a vendor-agnostic forum for understanding the breadth of marketing technologies and how organizations can effectively integrate them into their marketing strategy and operations.
Read more...
When: April 14 - 15, 2015
Where: New York, NY
In the age of the customer, marketers face three acute strategic and operational challenges: how to connect with distracted, empowered customers; how to engage customers once those connections are made; and how to nurture customer obsession as a strategic imperative throughout the organization. This Forum will teach you how to build and lead a next-generation marketing organization focused on customer obsession.
Read more...