Rich Media
Wednesday, 10 September 2014 00:00
Marketers spend a great deal of time and effort crafting the perfect email, but ensuring that those emails land in the inboxes of potential buyers is just as important. This infographic from Vertical Response, a provider of online marketing tools, outlines the dos and don'ts to help your emails get seen.
Read more...
Demand Generation Strategies
Wednesday, 10 September 2014 09:08
While lead nurturing is becoming a bigger priority as of late, it is still a relatively new tactic for many B2B marketers. Preliminary results of Demand Gen Report's Lead Nurturing Survey revealed that 38% of respondents so far have been developing lead nurturing campaigns for less than a year.
Those that are using lead nurturing are becoming more sophisticated in their tactics, with the overwhelming majority going beyond the traditional "drip" campaign. Nearly three quarters (73%) of respondents to date have complex lead nurturing strategies, sending different series of emails based on the actions/interests of the respondent.
Read more...
Revenue Strategies
Written by Brian Anderson, Associate Editor
Wednesday, 10 September 2014 08:49
Once a trend leveraged primarily by B2C organizations, social selling has grown into a tactic that is helping B2B marketers and sales people with their lead prospecting, nurturing and qualification efforts.
According to recent LinkedIn research, 59% of buyers would think less of a sales person, and 53% would think less of that sales person's company, if they made a cold call. However, 87% of B2B buyers had a favorable impression of a sales person who was introduced to them through someone in their professional network.
Read more...
Demand Generation Strategies
Wednesday, 10 September 2014 08:30
Salesfusion has released a new lead enrichment feature designed to help marketers gather more complete information on leads. Through a partnership with InsideView, data from the InsideView Open platform will automatically populate chosen lead records in Salesfusion and any integrated external CRM.
The feature, Salesfusion Enrich, is available at no cost to Salesfusion customers beginning early Q4 2014.
Read more...
Content Strategies
Tuesday, 09 September 2014 08:30
While 81% of marketers says they use context-based facts specific to a prospect to shape their marketing messages and sales conversations, a new survey from Corporate Visions reveals that they may be focusing on the wrong types of insights. Marketers ranked forward-looking content as the most effective, but reported that their assets focused primarily on common challenges.
"What's surprising about the survey results is that the insights marketers and salespeople feel are the most effective are exactly the opposite of the insights they believe their companies produce," said Tim Riesterer, chief strategy and marketing officer for Corporate Visions.
Read more...
<< Start < Prev 1 2 3 4 5 6 7 8

9

10 Next > End >>


Page 9 of 280
Demanding Views
By Lisa Lakata, Senior Data Analyst, 6Sense
When it comes to size, we hear a lot about "Super Size,""Upsize," "Go big or go home." So when your company hops on the Big Data bandwagon, is bigger better? Is more data more helpful?
Not necessarily. The fact is more data does not automatically equal more information. The quality of data is just as, if not more, important.
Read more...
Bulletin Board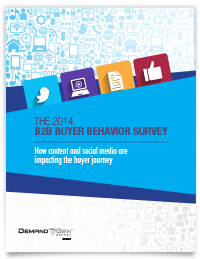 Demand Gen Report's 2014 B2B Buyer Behavior Survey provides insights into how B2B buyers make their decisions. Buyers are waiting longer to engage with sales, but they are more satisfied with the process than in years past. For an in-depth look at this research, download the report now!
Solution Spotlight
Ambition is the self-proclaimed "fantasy football for sales teams," designed to use gamification to benchmark sales reps within an organization, boost productivity and close more deals.
Read more...
Follow Us
Industry Events
When: November 11 – 13, 2014
Where: Raleigh, NC
Internet Summit is a premier digital strategies forum with a goal of educating and promoting forward thinking and thought leadership on topics related to internet business and marketing. Attendees come from a broad range of organizations including National Brands, Agencies, Technology Companies, Media, B2B Providers, Associations & Nonprofits and Startups.
Read more...
When: February 16 - 18, 2015
Where: Scottsdale, AZ
The B2B Content2Conversion Conference brings together the top thought leaders and practitioners in both content and demand generation. The combined agenda provides real-world case study examples, as well as actionable takeaways on how marketers can better target, engage and convert prospects into customers. Taking place in Scottsdale, Arizona, the B2B Content2Conversion Conference provides you with a playbook to optimize your 2015 marketing plans.
Read more...
When: February 23 – 26, 2015
Where: Las Vegas, NV
Discover how-to details and strategies for fast, measurable digital marketing success. All of it is real-world experience grounded in rigorous research and taught by successful marketers who face your same challenges. Learn how to make your email campaigns — and your career — more successful than ever and do it within a world-class venue. It's no wonder leading organizations consider Email Summit a priority investment year after year.
Read more...