Industry News
Tuesday, 07 April 2015 08:50
Marketo unveiled new integrations with Google AdWords and Google Analytics, which position Marketo users to track and measure ad spending and provide more targeted messaging.
The integrations are designed to enable marketers to link Marketo data such as firmographic and customer profile information to their Google Analytics platform to personalize campaigns. Offline activities that are tracked in Marketo — such as when a lead is qualified and a deal is closed — can be exported to AdWords to measure the ROI of digital ad campaigns.
Read more...
Marketing Analytics
Monday, 06 April 2015 10:49
With 70% of the buyer's journey being directed by the customer, progressive B2B marketers are using data to help drive prospects through the funnel more efficiently once they do engage. This was just one of the many topics discussed in a recent webinar hosted by Marketo and Demand Gen Report.
"[Traditionally], marketing was only responsible for making prospects aware of their brand," said Mike Tomita, Senior Marketing Manager at Marketo, during the presentation. "Now, marketing has the responsibility to direct that customer's journey and build that relationship up to a point where the prospect can be handed off to sales."
Read more...
Industry News
Friday, 03 April 2015 09:33
Integrate, a cloud-based marketing platform provider, launched its Closed-Loop Media Optimizer app for Oracle Eloqua users. The app is designed to provide a holistic view of campaign performance to optimize spend and boost customer acquisition.
Announced at the Modern Marketing Experience, the app enables Eloqua users to automate closed-loop KPI reporting within Eloqua's Campaign Canvas, positioning users to make KPI data actionable on the Integrate dashboard in real-time.
Read more...
Industry News
Thursday, 02 April 2015 16:04
Janrain, a customer identity management solutions provider, has integrated with the Oracle Marketing Cloud in an effort to give B2B marketers actionable insights and data for more targeted, personalized messaging.
Announced at the Modern Marketing Experience event in Las Vegas, NV, the integration is designed to sync customer data to target prospects with relevant products, services and offers through multiple channels.
Read more...
Industry News
Written by Kim Ann Zimmermann, Senior Managing Editor
Thursday, 02 April 2015 10:39
Oracle introduced several tools at its Modern Marketing Experience event this week designed to help marketers track customers across channels and devices, as well as identify prospects that match the profiles of their best customers.
In an interview with Demand Gen Report, John Stetic, Group VP of Product for Oracle Marketing Cloud, said these moves offer tighter integration between many of the company's recently acquired technologies, including Eloqua's marketing automation platform, BlueKai's data management platform and the Responsys cross-channel marketing platform.
Read more...
<< Start < Prev 1 2 3 4 5 6 7 8

9

10 Next > End >>


Page 9 of 318
Demanding Views
By Suresh Balasubramanian, LiveHive
Without synchronization between sales and marketing, the business suffers. According to Aberdeen Group, the lack of integration of sales intelligence with sales and marketing systems causes the biggest gap between top sales performers and under-achievers. However, fewer than one out of 10 B2B companies report good alignment between their sales and marketing organizations, SiriusDecisions research shows.
Weak processes between sales and marketing have made it challenging for sales and marketing to work together successfully. While delivering immense value, existing CRM and marketing automation systems don't deliver a complete buyer picture for the organization. Furthermore, this data has not been easily shared across departments.
Read more...
Bulletin Board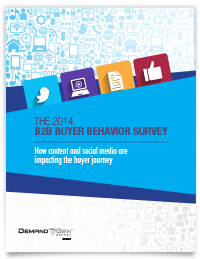 Demand Gen Report's 2014 B2B Buyer Behavior Survey provides insights into how B2B buyers make their decisions. Buyers are waiting longer to engage with sales, but they are more satisfied with the process than in years past. For an in-depth look at this research, download the report now!
Solution Spotlight
Insightpool is a social marketing platform designed to increase social media engagement with anonymous prospects within target audiences. The solution also positions marketers to produce personalized social campaigns that can nurture prospects through the buyer's journey.
Read more...