Industry News
Tuesday, 19 May 2015 09:28
Infer, a provider of predictive applications, announced the general availability of its Account Scoring solution, a service designed to help businesses source more sales opportunities by ranking cold accounts based on their fit for the product and revenue potential. The new service was unveiled at the SiriusDecisions Summit in Nashville, Tenn.
Infer's fit and behavior models positions users to analyze key signals — such as a company's business model, technology vendors, relevant job postings, public filings, social presence, marketing automation data, product usage data, and other attributes — to produce account, contact and lead scores. The scores can then be shared with the CRM system.
Read more...
Industry News
Written by Carol Krol, Editor-in-Chief
Monday, 18 May 2015 12:46
SiriusDecisions debuted SiriusTools and SiriusPathways, two web-based interactive tools for clients, at its annual SiriusDecisions Summit in Nashville.
SiriusTools enables B2B sales, marketing and product executives to leverage pre-built frameworks and models in an easy-to-use format, the company said.
Read more...
Industry News
Monday, 18 May 2015 10:55
Influitive launched Influitive Communities, an extension of the company's advocate marketing platform designed to help B2B organizations create customer communities that enhance engagement, build brand credibility and boost revenue.
Available through the company's Advocate Hub, Influitive Communities intends to offer member management capabilities with advocate marketing features to enable B2B marketers tocreate thriving customer communities that boost member engagement and impact pipeline.
Read more...
Industry News
Friday, 15 May 2015 09:00
MHI Global, a sales performance and customer management company, has acquired CSO Insights, a sales effectiveness research and benchmarking firm. The acquisition intends to provide sales leaders with resources such as benchmark studies, global sales performance research and advisory services to increase revenue.
The acquisition intends to increase CSO Insights' global reach to help MHI Global clients understand the challenges facing sales organizations, why those problems exist and what companies are doing to optimize their performance moving forward.
Read more...
Industry News
Thursday, 14 May 2015 09:31
Vidyard and SnapApp have partnered to incorporate SnapApp's interactive features into video content created through the Vidyard platform.
Announced at the SiriusDecisions Summit in Nashville, the partnership is designed to help create, publish and measure the impact of interactive videos on demand generation. Marketers will be able to incorporate interactive experiences, such as assessment calculations, quizzes, polls, surveys and contests, into their video content.
Read more...
<<

Start

<

Prev

1

2 3 4 5 6 7 8 9 10 Next > End >>


Page 1 of 318
Demanding Views
By Suresh Balasubramanian, LiveHive
Without synchronization between sales and marketing, the business suffers. According to Aberdeen Group, the lack of integration of sales intelligence with sales and marketing systems causes the biggest gap between top sales performers and under-achievers. However, fewer than one out of 10 B2B companies report good alignment between their sales and marketing organizations, SiriusDecisions research shows.
Weak processes between sales and marketing have made it challenging for sales and marketing to work together successfully. While delivering immense value, existing CRM and marketing automation systems don't deliver a complete buyer picture for the organization. Furthermore, this data has not been easily shared across departments.
Read more...
Bulletin Board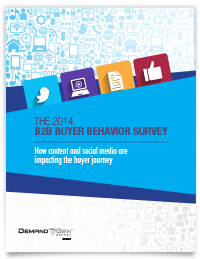 Demand Gen Report's 2014 B2B Buyer Behavior Survey provides insights into how B2B buyers make their decisions. Buyers are waiting longer to engage with sales, but they are more satisfied with the process than in years past. For an in-depth look at this research, download the report now!
Solution Spotlight
Insightpool is a social marketing platform designed to increase social media engagement with anonymous prospects within target audiences. The solution also positions marketers to produce personalized social campaigns that can nurture prospects through the buyer's journey.
Read more...